Demolition of an agricultural room in "Khirbet Salama" East Tarqumiya / Hebron governorate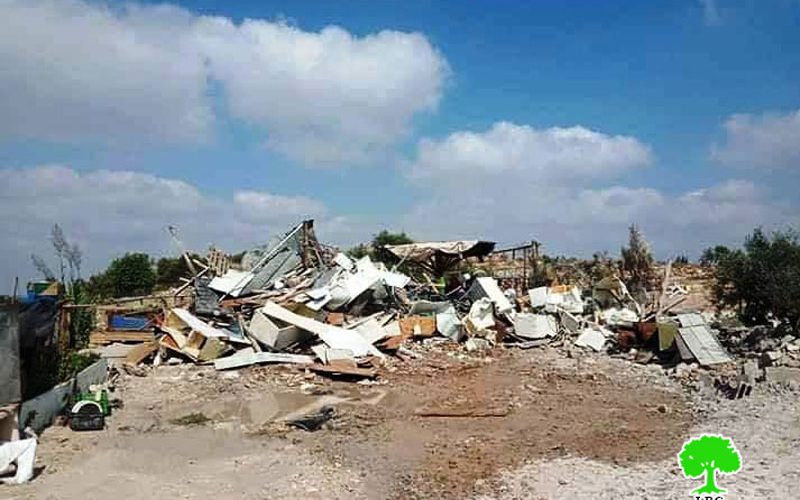 Violation: Demolishing an agricultural room.
Date: September  9th 2019.
Location: Khirbet Salama – Tarqumiya / Hebron governorate.
Perpetrators: The Israeli Occupation civil administration.
Victims: Citizen Mohammad Ja'afreh.
Description:
Monday, September 9th 2019, the Israeli occupation authorities demolished an agricultural room belong to Mohammad Ja'afreh in "Khirbet Salama" east Tarqumiya in Hebron, on the pretext of building without licenses.
Aj-Ja'afreh said that an army force and border guards, workers from the building and organization department  – the civil administration accompanied by a "Volvo" bulldozer raided the area at 10:00 am , the occupation forces got the place surrounded , prohibited the owner from approaching the targeted room  , then completely leveled it to the ground.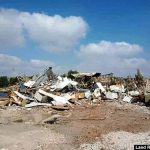 Photos 1+2: Demolishing an agricultural room
Aj-Ja'afreh said that the room was used as a store for agricultural tools , and to rest in while working in the plot ,as Aj-Ja'afreh owns a 9 dunums plot planted with grapes and olives.
Reportedly, The room also consisted of three beds , some covers and kitchenware , the occupation forces threw them outside , and some of them were broken due to that.
Aj-Ja'afreh said that he did not receive any preceding notices from the occupation before the demolition, and he never got the chance to object , he also pointed out that in 2018 , the occupation demolished another agricultural room that he owned.
About Tarqumiya:
10 km to the west of Hebron city , Tarqumiya is edged by Beit Ula and Beit Kahil villages from the north,  Idhna village from the west, Taffuh village from the east and Dura village from the south.
Its population mounts up to 19,311  people (2017 census). Tarqumiya's total land area is 22,106 dunums, of which 2,117 dunums are considered the village's built-up area.
Israeli colonies confiscated 948 dunums from Marda lands. Adora colony that was established in 1982 confiscated 442 dunums from the village. It is now home for 191 colonists.
As for Telem colony, it confiscated 506 dunums from Tarqumiya and is now home for 127 colonists.
The lands of Tarqumiya are classified according to Oslo Accords as the following:
8,186 dunums (37%) are classified as area B
13,920 dunums (63%) are classified as area C
Legal Feedback:
Article 147 of Geneva fourth convention  : extensive destruction and appropriation of property, not justified by military necessity and carried out unlawfully and wantonly. ( it is considered a serious violation of the convention)
Article 53 of Geneva fourth convention that forbids destroying properties : Any destruction by the Occupying Power of real or personal property belonging individually or collectively to private persons, or to the State, or to other public authorities, or to social or co-operative organizations, is prohibited, except where such destruction is rendered absolutely necessary by military operations.
Article 33 of Geneva fourth convention: No protected person may be punished for an offence he or she has not personally committed.
Article 32 of Hague convention 1907 part g: To destroy or seize the enemy's property, unless such destruction or seizure be imperatively demanded by the necessities of war.
Article 17 of Universal declaration of human rights 10 –Dec- 1948:  No one shall be arbitrarily deprived of his property.
Prepared by