Destroying agricultural lands and water pipes in Jubara village / Tulkarim governorate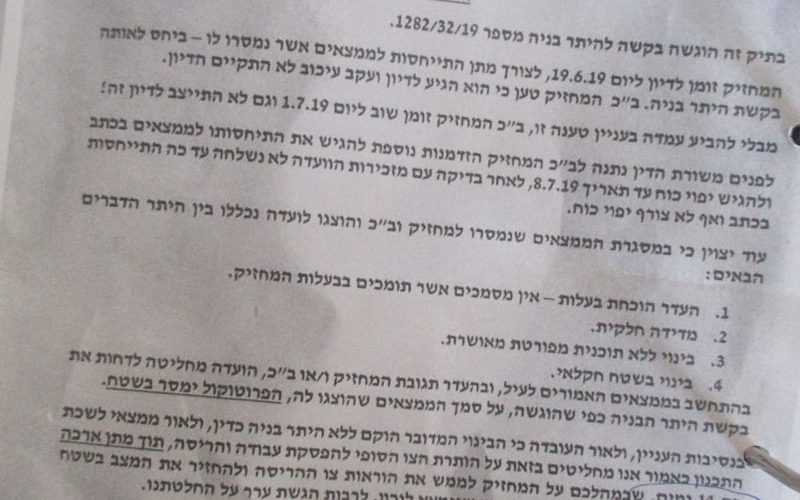 Violation: demolition threats, destruction of lands, water pipes and a  fence.
Location: Jubara village / south Tulkarim.
Date: 26/08/2019.
Perpetrator: Government properties department – the Israeli occupation civil administration.
Victims: People of Jubara village.
Description:
Jubara village in the southern suburbs of Tulkarim , is heavily targeted by the Israeli occupation , the village is completely isolated from other Palestinian communities , and most of its lands were confiscated by the Israeli occupation authorities after allocating them Israeli state property.
Monday, 26th of august about 7:30, a massive army force accompanied by government properties officer in the civil administration raided the southern area of Jubara , also known as "Khallet Hmaid" , and the occupation bulldozer demolished and destroyed a fence, uprooted 45 olive saplings aging 3 years old, sabotaged water pipes (1/4 inch * 120 m ) , then ravaged the  1.5 dunums plot after destroying everything on it.
The occupation claims that the targeted plot is an Israeli state property, the plot was targeted with an eviction order in 19 July.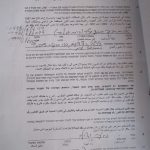 Photo 1: an eviction order on the plot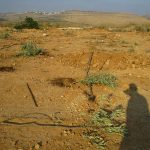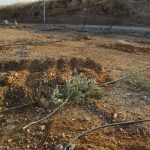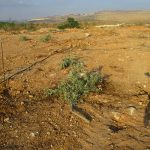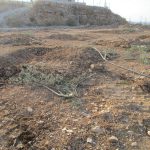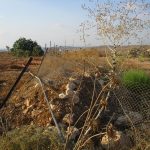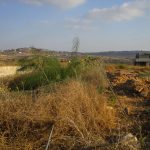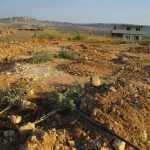 Photos 2-9: the targeted plot
Jubara village council head Mustafa Tuhaina told LRC the following:
"A while ago, the Israeli occupation forces in coordination with the government properties department in the civil administration  notified 95 dunums in the area of eviction after allocating them Israeli state properties , noteworthy,  Palestinian owners have ownership deeds that prove they own these lands , but the occupation used a law from the Othman rule to take over the area. In the past years, owners of then targeted lands were not even allowed to cultivate them , due to their location close to the apartheid wall that used to isolate the area until 2011.
Farmers of the plots were trying hard to revive the area , but all their trials were hindered by the occupation forces."
A Final demolition order:
Only few meters away from the targeted plot , Citizen Mohammad Al-Qat from Jubara found a demolition order  hanged on his newly built house door , the order was issued by "Beit El" military court in July 9th , the occupation authorities also allocated Al-Qat's land a state property, and now decided to demolish his family home.
Reportedly the house consists of one floor with a total area of 160 m2 , and built on 1 dunum plot, it was supposed to be a home for a family of 6 , 4 of them are under age.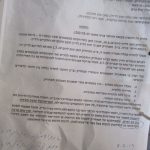 Photo 10: court order of demolition a house belongs to Al-Qat family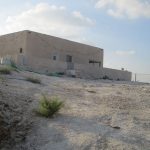 Photo 11 : the targeted house
In April 16th 2019, the occupation authorities demolished an under construction house in the same area, on the pretext of building without licenses in a state property, read our reports Arabic, English.
About Jubara: [1]
7 km to the south of Tulkarem city , Jubara is border by Faro'un village (north), occupied territories of 1948 (west), Shofa village (east), Kafl Al-Jamal and Flamiy (south) . Its population mounts to 313 according to 2017 census.
Families of the town: Jubara, Mahmoud, Awad and Odeh. The town has a total area of 46,914 dunums , of which 73 dunums are the town's built up area.
Israeli settlements devoured 1068 dunums of the town's land:
Sal'it settlement (1977)  devourd 921 dunums and populated 441 settlers.
Ya'arit devoured 147 dunums.
The segregation wall devoured 1531 dunums, and isolated 12,212 dunums.
Oslo conventions divided Jubara into B and C areas:
B area : 29862 dunums.
C area: 17052 dunums.
[1] GIS-LRC
Prepared by