The Occupation Demolishes and Confiscates a Barracks and Water Reservoir East Tarqumiya/ Hebron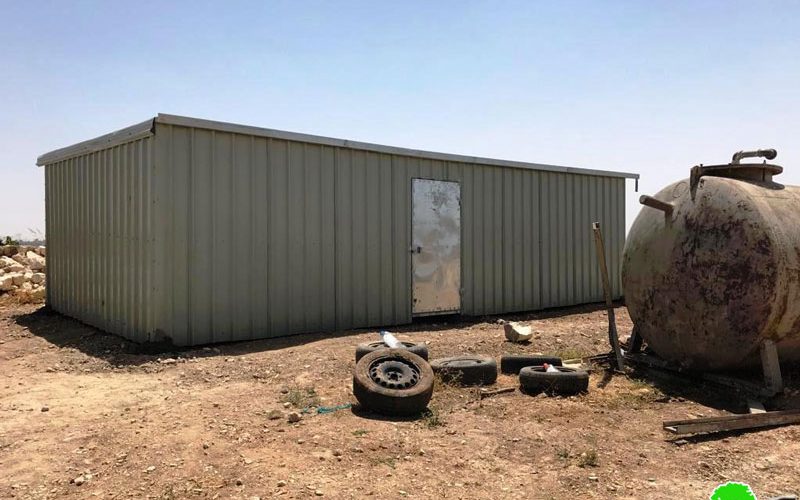 Violation: Demolition and confiscation of properties.
Date: 31/07/2019.
Location: At-Tayba- Tarqumiya village/ Hebron governorate.
Perpetrator: The Israeli Occupation civil administration.
Victims: Shahir Al-Hamoouri.
Description:
Wednesday, 31 July 2019 , The occupation authorities demolished and confiscated a barracks, and a water reservoir belong to Shahir Al-Hammouri east Tarqumiya.
Al-Hammouri (43) said an army force accompanied by a vehicle from the building and organization department, and two winch trucks raided the area at 8:00 am , encircled the plot and dismantled the barracks.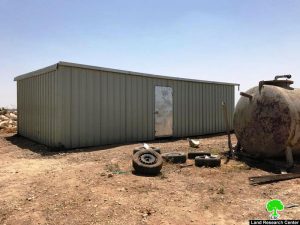 Photo 1: the targeted barracks
After the demolition, they confiscated the barracks' components (steel sheets and chairs), and the water reservoir.
The targeted barracks has an area of (50 m2) , it was guaranteed by a human rights institution, after the occupation demolished an agricultural room in his plot.
The confiscated water reservoir , has a storage capacity of (12 m3).
Al-Hammouri pointed out that the occupation's assault came without any preceding notices, while after the demolition , the occupation forces left "A confiscation notice" at the location.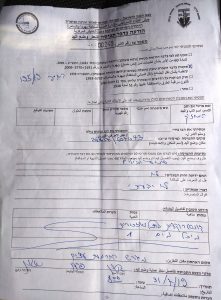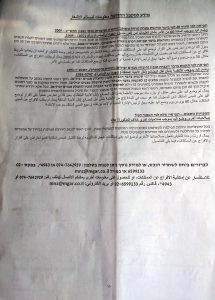 Photos 2+3: the confiscation notice
The confiscation notice explained that the owner may take back his properties only of he followed certain conditions within 60 days, in addition to paying a fine. In case 60 days had passed without paying the fine, the occupation authorities will sell the properties.
In most cases the fines are higher than the properties' prices , which leads owners to leave the properties to the civil administration to sell them.
Noteworthy, in 17 June, the occupation authorities demolished an agricultural room belongs to Hammouri , and destroyed retaining walls and barbed wires that fenced his two dunums plot , on the pretext of building without licenses. Read our report.
And in 21 October , the occupation authorities served halt of work order on the barracks and water reservoir, the owner applied for licenses , but the occupation authorities refused and demolished the structures.
Photo 4: Halt of work order on Al-Hammouri's strutures
Prepared by
 The Land Research Center
LRC