The Occupation demolishes an agricultural pool in Wadi Al-Ghorous / East Hebron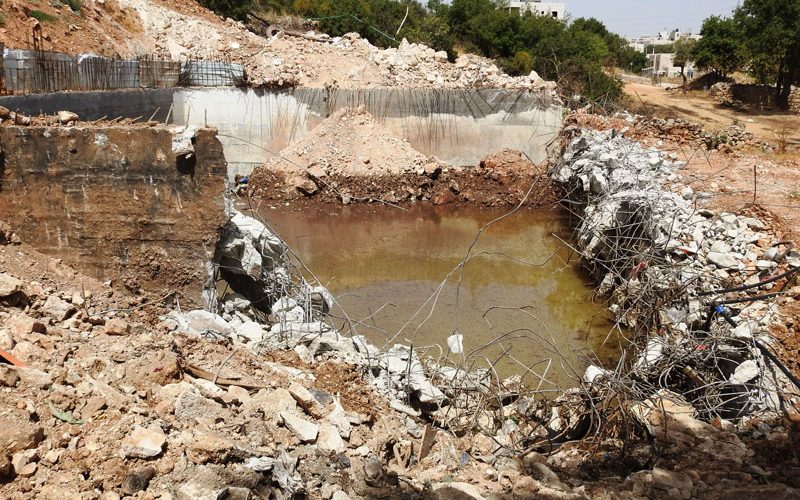 Violation: Demolition of a water agricultural pool.
Date: 16/07/2019.
Location :Wadi Al-Ghorous/ Hebron governorate.
Perpetrators: the Israeli Occupation Civil Administration.
Victims: Farmer  Zaied Aj-Ja'abari.
Description:
 Tuesday, 16 July 2019, the Israeli occupation authorities demolished a water pool and surrounding lands in Wadi Al-Ghorous on the pretext of building without licenses.
Owner Zaied Aj-Ja'abari (60 years) said that an army force and a vehicle related to the building and organization department in the civil administration accompanied by three machineries raided Wadi Al-Ghorous area and demolished the pool.
The machineries included two "Hyundai" excavators and another from "Liguong" company, and a Caterpillar bulldozer.
The machineries demolished the pool structure, and then felled it with earth mounds.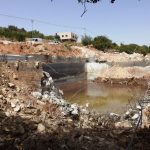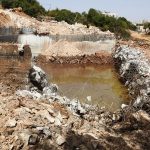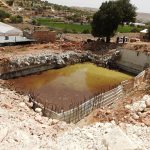 Photos 1-3: the remains of the demolition
The demolished pool had a storage capacity of (650 m3) , and was used in harvesting rain water. It used to provide water for 24 dunums and 100 cattle heads, and there are 25 thousand newly planted saplings.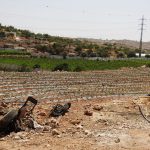 Photo 4: The crops that benefited from the targeted pool
Affected citizen said that the targeted plot was providing a subside source of income for a family of 11 (2 of them are children), he also said that he received a halt of work order once he finished the construction of the pool in 2018, then the occupation authorities issued a final demolition order in July 2019, and gave him only three days to implement the demolition.
The demolition of the pool caused destroying the surrounding plants.
He also asserted: "in 2002 , the occupation authorities demolished a barracks he owns at the same area on the pretext of building without licenses ."
Noteworthy Wadi Al-Ghorous area is located to the east of Hebron , the occupation authorities set up gates and checkpoints on its entrance, in addition to the fact that "Kharsina" settlement overlooks it from the east.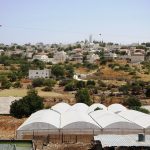 Photo 5: "Kharsina" settlement
Demolishing the pool is only an episode from a series of attacks against water resources in Wadi Al-Ghorous, while on the other hands, settlers are getting facilitation and better services.
Prepared by