The Occupation Authorities Demolish and Confiscate a Facility in Hebron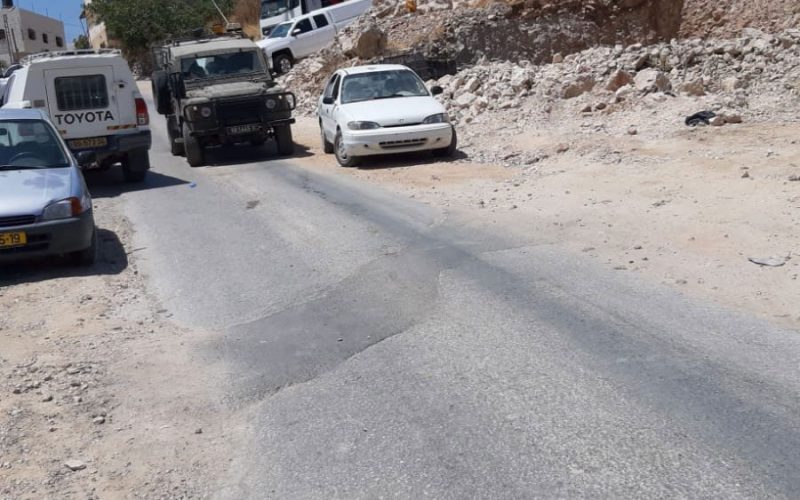 Violation: Demolition and confiscation of a facility.
 Date: 08/07/2019.
Location: Al-Fahs area / Hebron governorate.
Perpetrator: The Israeli occupation civil administration.
Victims: Hussain Aj-Jamal.
Description:
Monday, The Israeli Occupation authorities demolished and confiscated a car workshop belongs to Hussain Al-Jamal in Al-Fahs – south Hebron, on the pretext of building without licenses.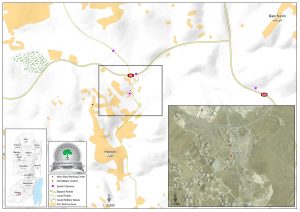 Hussain Aj-Jamal said that a vehicle related to the building and organization department , and two winch trucks raided Al-Fahs area, encircles a car workshop and sabotaged it through cutting its components using electric sharp tools.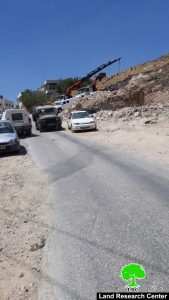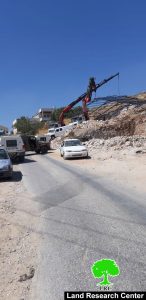 Photos 1+2: Demolition and confiscation of a  facility
The Israeli occupation authorities demolished a facility (200 m2), the facility was constructed one month ago to be used in repairing  and  painting cars.
After the troops finished the destruction process, they confiscated the components of the facility and handed the owner an "Confiscation notice", says that "steels sheets of an illegal structure  were confiscated", the notice explained that the owner can take back his properties with conditions determined by the occupation, such as paying the demolition expenses and storage costs.
Noteworthy, the occupation authorities put high fines on the owners , in order to make them give their properties up. owners are given only one month before the authorities sell the properties.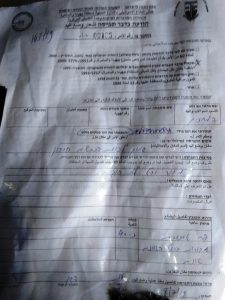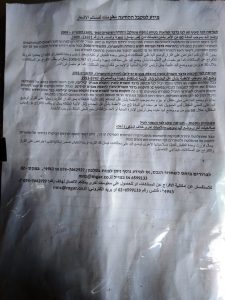 Photos 3+4: Confiscation Notice
In the same context, the occupation authorities put a halt of work order on the cement floor , on which the facility was installed, notice number ( 050573) set 8/8/2019 , as the subcommittee session in Beit El military court to decide the fate of the structure.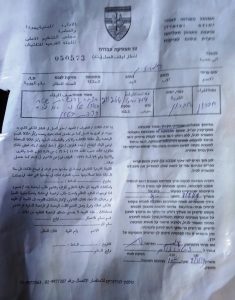 Photo 5: the halt of work notice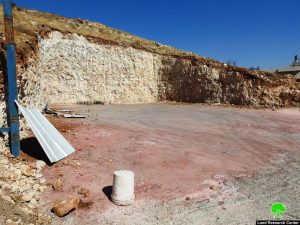 Photo 6: the targeted cement floor
The Israeli demolition policy in international law
The Israeli demolition policy is not leaded by security maintenance or military obligations. In fact, such policies play a significant role  in the Israeli colonial interests.
Through such arbitrary policies, the Israeli occupation authorities are aiming to depopulate the Palestinian people, in order to take over their land and resources. Such measurements penetrate international conventions and agreements regarding demolition of structures and facilities in occupied territories:
Article 147 of Geneva fourth convention  : extensive destruction and appropriation of property, not justified by military necessity and carried out unlawfully and wantonly. ( it is considered a serious violation of the convention)
Article 53 of Geneva fourth convention that forbids destroying properties : Any destruction by the Occupying Power of real or personal property belonging individually or collectively to private persons, or to the State, or to other public authorities, or to social or co-operative organizations, is prohibited, except where such destruction is rendered absolutely necessary by military operations.
Article 33 of Geneva fourth convention: No protected person may be punished for an offence he or she has not personally committed.
Article 32 of Hague convention 1907 part g: To destroy or seize the enemy's property, unless such destruction or seizure be imperatively demanded by the necessities of war.
Article 17 of Universal declaration of human rights 10 –Dec- 1948:  No one shall be arbitrarily deprived of his property.
Prepared by
 The Land Research Center
LRC