Serving Halt of Work Notices on a Residence in Qawawis Village- East Yatta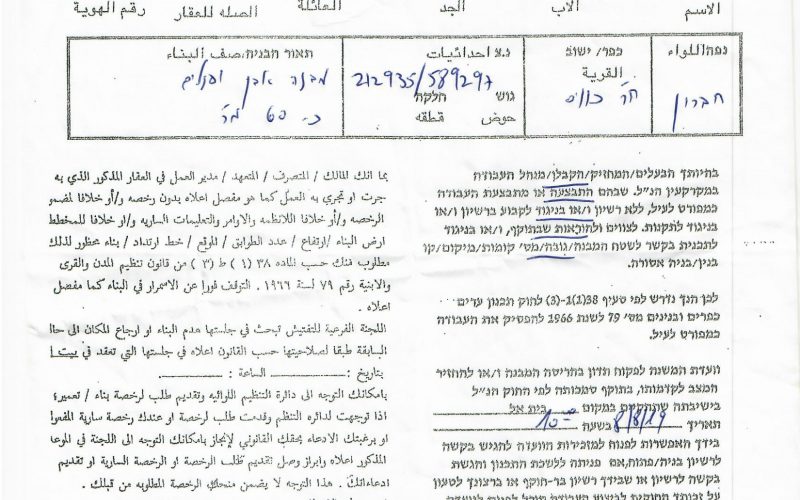 Violation :Halt of work notices.
Date: 29 /07/2019.
Location: Qawawis – Yatta village / Hebron governorate.
Perpetrator: Civil Administration.
Victims: Mustafa An-Najar.
Description:
Monday, 29 July 2019 , The Israeli occupation authorities served a halt of work notice on a residential structures belong to Mustafa An-Najar in Al-Qawawis / East Yatta.
An-Najar (50 years) said that a vehicle related to the building and organization department in the civil administration accompanied by an army patrol raided the area about 10:00 am, and handed him the notice.
The occupation authorities claim that An-Najar built the structures without getting proper licenses from the occupation , and set 8th of August as the subcommittee session in "Beit El" court to decide the fate of the structures.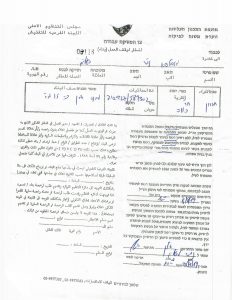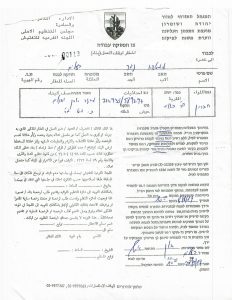 Photos 1+2: halt of work notices
The notices targeted the following structures:
Notice number (00119) : The notice targeted two rooms consist of bricks and stones, and has an area of 60 m2 built since 2017, and used by the family of 11 members (4 children), the structure was provided by a human rights international institution.
Notice number (001418) :Targeted an outer bathroom belongs to the family, it is built of bricks and steel sheets , and has an area of 15 m2, and built in 2017.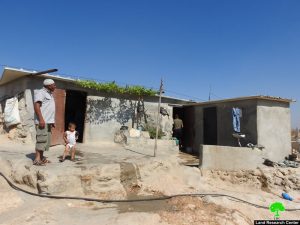 Noteworthy, The Occupation authorities issue halt of work notices as a preceding procedure of a final demolition order, after receiving the notices , affected citizens prepare a legal file and hire human rights lawyer with the help of legal aid institutions in order to object on the orders, but in most cases the occupation authorities refuse to provide licenses under weak pretexts, followed by demolition.
Published studies conducted by Israeli NGOs anti – demolition policies of Palestinian homes showed that only 1.5 % of the licensing applications are approved, and the study found that between (2010 -2014) Palestinians applied (2020) licenses applications in C area, of which 33 were approved , with a percentage of only 1.5 %.
The occupation authorities claim that in such notices and military orders they refer to the Jordanian "cities, villages and buildings organization law" number (79) of year 1966. In reality, in 1971 the occupation authorities issued military order number (418) on organizing cities, villages and structures , and started treating Palestinians in C area in reference to military order 418.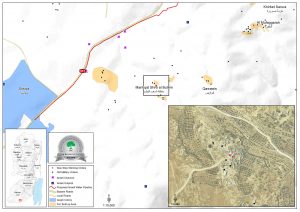 However, the occupation authorities frequently issue new military orders that include more structures in C area and quicken its demolition. For example, in 2018 , the occupation authorities issued military order 1797 that gives the "Authority" to any inspection officer from the civil administration to issue a "removal order" against any Palestinian structure in C area within 96 hours , without giving the owner any chance to object.
Such military orders are ratified by the Supreme Court, who turned down any calls by human rights institutions to deactivate the military order.
Prepared by
 The Land Research Center
LRC