Israel Halts Work on Two Rooms and a Cistern in Al-Burj/ South Hebron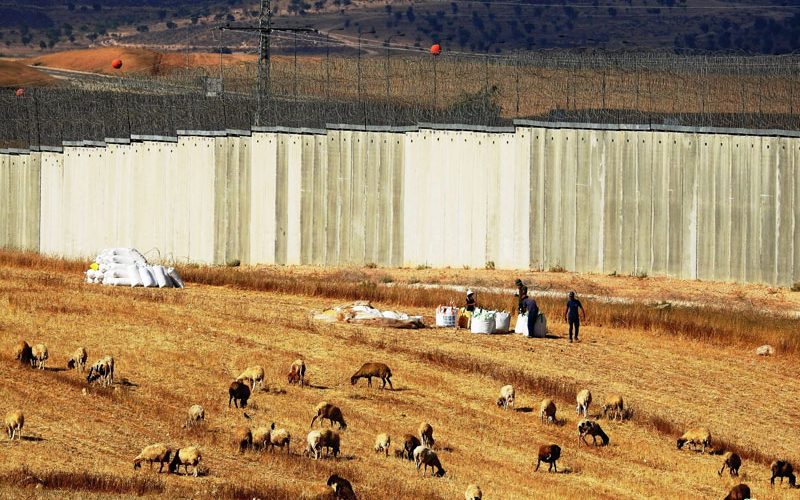 Violation: Serving Halt of work notices.
Date: 21/7/2019.
Location: Umm Baghla – Al-Burj / Hebron governorate.
Perpetrators: The Israeli so called civil administration.
Victims: Mufeed and Islam At-Talahama.
Description:
Sunday, 21 July 2019 , the Israeli occupation authorities served halt of work orders on two agricultural rooms, a cistern and a barn in Al-Burj.
Mufeed Talahma (30 years) said that a vehicle related to building and organization department in the civil administration and an army patrol raided the area at 11:00 am, and wrote the notices then pasted them on the threatened rooms' doors , and took pictures before withdrawing.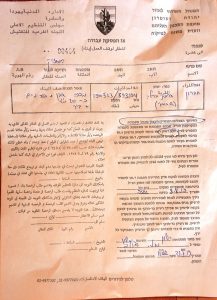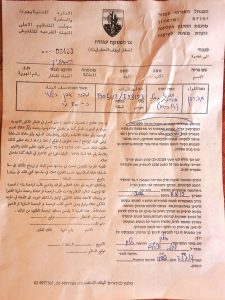 Photos 1+2: Photos of The halt of work notices
As it is shown on the notices the occupation sets (8/8/2019) for the subcommittee session in "Beit El" military court, in order to decide the fate of the structures.
The notices targeted the following structures:
Notice (00404): targeted (1) a room built of stones and has a ceiling of canes with an area of 16 m2, owned by Mufeed Talahma who uses it to rest during working in his land.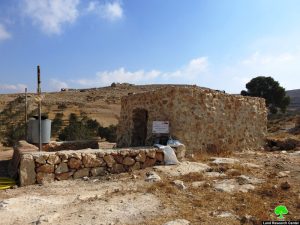 Photo 3: The threatened room that belongs to Mufeed Talahma
(2) A cistern with a storage capacity of (70 m3) built since 2017 , implemented by LRC in cooperation with the CRS , the cistern provided water for 100 cattle heads.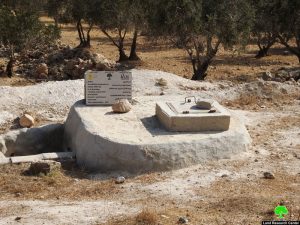 Photo 4: The threatened cistern
(3) Cattle barn constructed of barbed wires and metal angles (150 m2).
2 – Notice (00403) : targeted a room built of stones and has a ceiling of canes (16 m2) , owned by Islam Talahma and used as a resting spot during working in the land.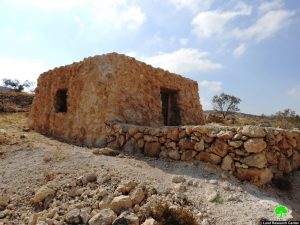 Photo 6 : the threatened room that belongs to Islam Talahma
Noteworthy , LRC constructed the targeted rooms in cooperation with CRIC in 2017 , within "Sumod" project activities , in order to support farmers' steadfastness in C area.
It is important to mention that the occupation authorities issue notices as a preceding procedure of a final demolition order against the targeted structures. Once an owner receives a notice, he or she starts the preparation of a legal file in order to defend the structure , but in the great majority of cases, the occupation authorities refuse to provide the structures with licenses, and issue a demolition order, and implement the demolition as soon as it is possible.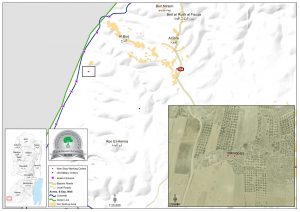 The Annexation and Expansion wall is located to the east of Umm Baghla, after the construction of the rooms and rehabilitating roads that lead to the area, life clearly returned to the spot, but as usually the occupation will never leave Palestinians live in peace.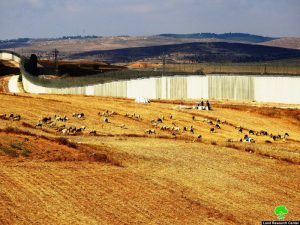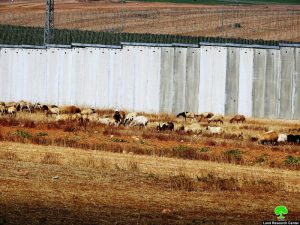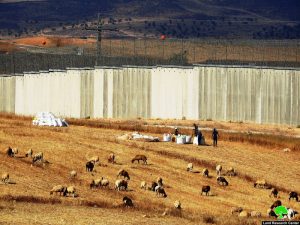 Prepared by
The Land Research Center
LRC