IOF Demolish a Residence and Agricultural Facilities in Khirbet Al-Faw/ Tubas Governorate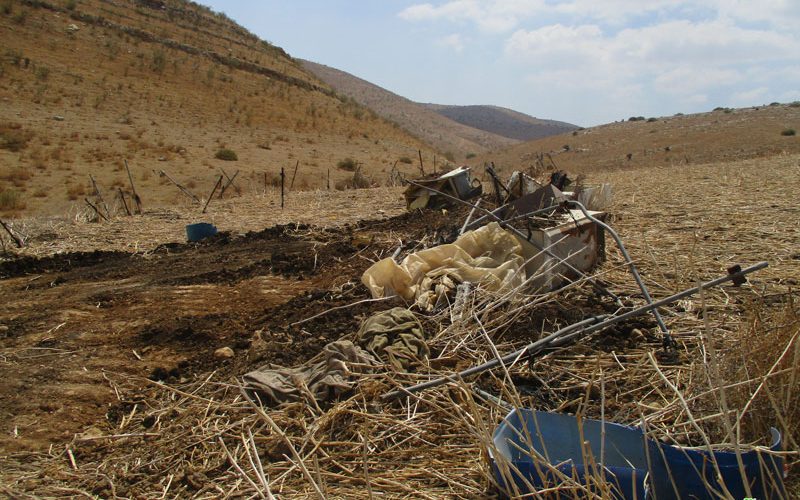 Violation: Demolition of a residential tent, Barracks and a barn.
Location : Khirbet Al-Faw – The northern Jordan Valley.
Date: 30 July 2019.
Perpetrators: The Israeli Occupation Army.
Victims: Family of Jamal Drghmeh.
Description:
In the early morning hours of Tuesday 30 July , The Israeli Occupation Forces accompanied by a bulldozer raided Khirbet Al-Faw and demolished a residential tent and an agricultural facility belong to Jamal Daraghmeh.
Jamal Daraghmeh told LRC reporter:
"April 2019, I received a notice to halt the construction on the pretext of building without proper licenses. Noteworthy, I have been living in the area for more than seven years , and I have been depending on herding as a main source of income to support my family of 7 (3 children).
The occupation demolished a tent that was our home (90 m2), and two barns , one of them has an area of (60 m2) , and the other has an area of 110 m2, I have a herd of 74 cattle heads."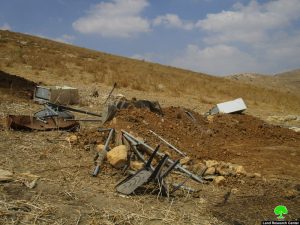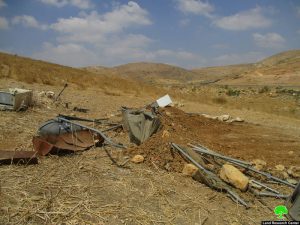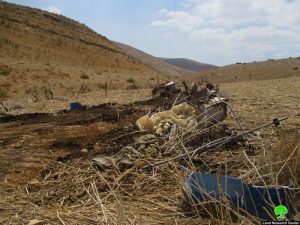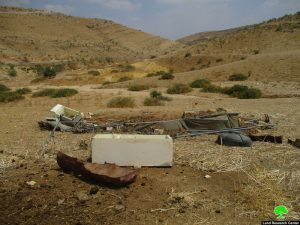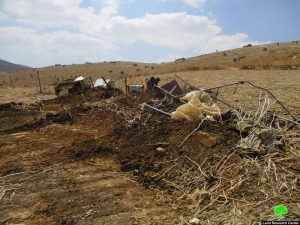 Scenes of the destruction that followed Jamal's properties
On a hill close to the demolition site , a group of settlers have been opening roads and constructing an outpost in an area known as "Abu-Qandoul" while the occupation troops were providing coverage and support for the perpetrators. Which reflects the stark reality of the Palestinian territories under Israeli occupation , at the time the occupation's government allows Israeli settlers to take over Palestinian lands for the construction of illegal settlements, Palestinians are deprived of their basic rights , their properties and structures are destroyed , and their resources are devoured.
About Khirbet Al-Faw: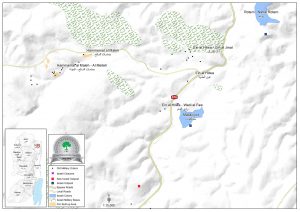 Khirbet Al-Faw is located to the south of Ein Al-Hilweh and Umm Al-Jamal, the Khirbet is inhabited by 7 Palestinian families from Bani Oudeh, Bsharat and Al-Ka'abneh clans, where they live  a simple life, and depend on herding to put food on the table for their families.
Noteworthy, Al-Faw location is heavily targeted by Israeli closures and violations, such as building Army bases on privately owned Palestinian lands.
International Conventions and agreements pertaining to demolition of properties:
Article 53 of Geneva fourth convention that forbids destroying properties : Any destruction by the Occupying Power of real or personal property belonging individually or collectively to private persons, or to the State, or to other public authorities, or to social or co-operative organizations, is prohibited, except where such destruction is rendered absolutely necessary by military operations.
Article 33 of Geneva fourth convention: No protected person may be punished for an offence he or she has not personally committed.
Article 32 of Hague convention 1907 part g: To destroy or seize the enemy's property, unless such destruction or seizure be imperatively demanded by the necessities of war.
Article 17 of Universal declaration of human rights 10 –Dec- 1948:  No one shall be arbitrarily deprived of his property.
Prepared by
 The Land Research Center
LRC