Four cisterns destroyed in Umm Al-Khair reserve – East Yatta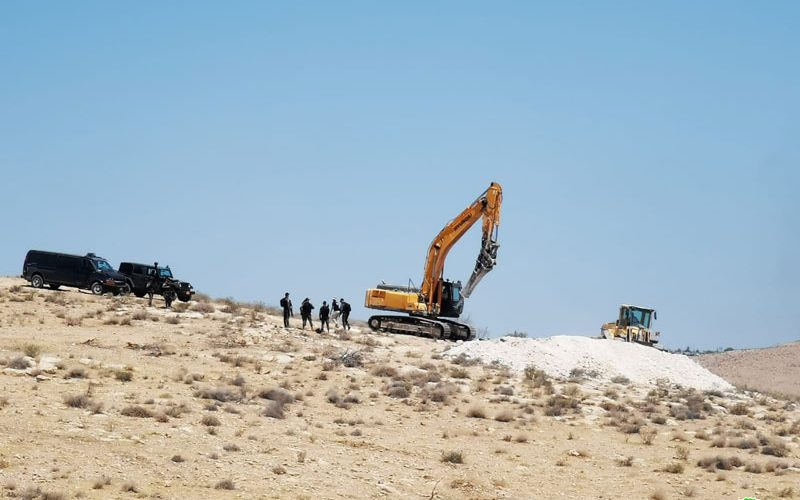 Violation: Destroying four agricultural cisterns.
Date: 24/7/2019.
Location : Umm Al-Khair – Eats Yatta / Hebron governorate.
Perpetrator: The Israeli occupation civil administration.
Victims: People of Umm Al-Khair.
Description:
Wednesday, 24 July 2019, the Israeli occupation authorities destroyed four cisterns in Umm Al-Khair reserve east Yatta, on the pretext of establishing the reserve without licenses.
About 9:00 am, The occupation forces accompanied by a Caterpillar bulldozer and  a Hyundai excavator , raided the reserve and destroyed the cisterns.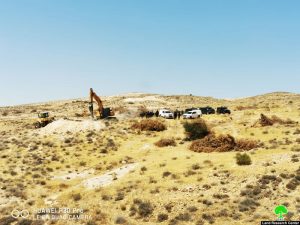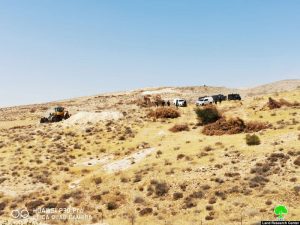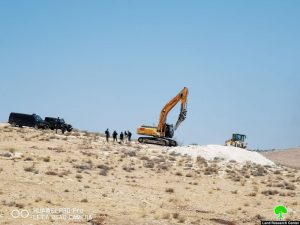 Photos 1-3: The demolition operation in Umm Al-Khair reserve
The occupation authorities destroyed the cisterns' doors and filled them with earth mounds.
The targeted cisterns used to provide water for farmers and herders in the area, after the occupation forces took over all water resources.
The cisterns were implemented in 2004 within the activities of the natural reserve project. The natural reserve was subjected by an eviction order , and was evicted in (3/7/2019).
Each one of the targeted cisterns has a storage capacity of (70 m3), and provide water for herders during summer season.
Khirbet Umm Al-Khair in lines:[1]
The khirbet is inhabited by people from Al-Hathaleen clan , who settled there several decades ago after Israel expelled them from the Arad desert in 1948 , it is reported that Umm Al-Khair population reached 686 people in 2017. the nearby settlement, Carmel which was established in 1981  , lies on lands confiscated from the Bedouin of that village. Carmel settlers frequently attack Bedouins of Umm al-Khair. Noteworthy, Regavim pro-settlement Israeli NGO targets the Khirbet , and provokes to demolish any new structures.
Regavim is active in Jerusalem and south Hebron , and follow up with colonial expansion, and demands the Israeli government to demolish Palestinian communities, such as Susiya, Zanota and Umm Al-Khair and expand Israeli colonies on the area instead.
[1] GIS-LRC
Prepared by