The Israeli Occupation Destroyed an Agricultural Facility in Beir Ummar / North Hebron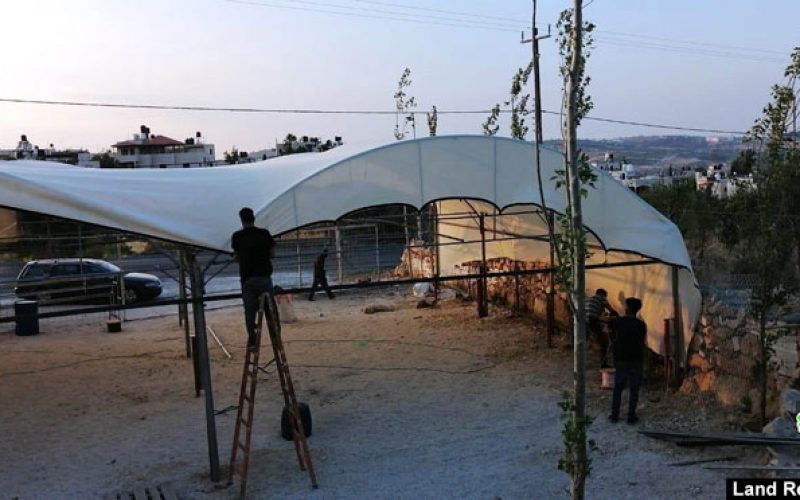 Violation: demolishing and confiscating a greenhouse.
Date: 17 /06 /2019.
Location: Beit Za'ata , Beit Ummar village / Hebron governorate.
Perpetrator: The Israeli occupation civil administration.
Victims: Mahdi Mesyef.
Description:
17 June 2019, the Israeli occupation army demolished a greenhouse that belongs to Mahdi Mesyaf on the pretext of building without licenses.
Mahdi (31) said that an army force accompanied by machineries raided Beit Za'ata and destroyed his green house then confiscated its parts in addition to the tools that were used in the construction.
Reportedly, the greenhouse was located on a 300 m2 land, and was going to be used as a nursery , the project was supposed to provide a job opportunity for Mahdi.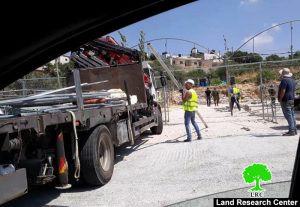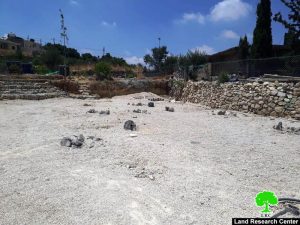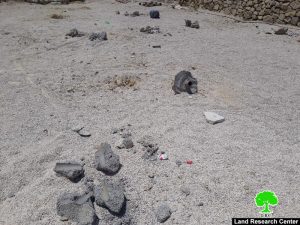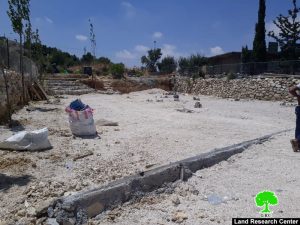 Photos 1-4: the remains of the demolition and confiscation
The occupation authorities served a "Confiscation order" to the owner, after they took away all the parts of his greenhouse.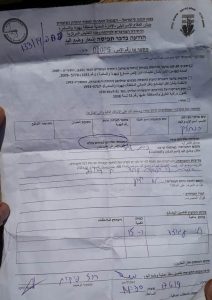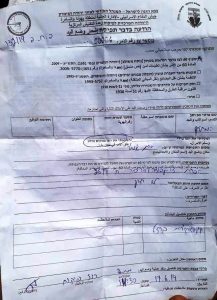 Photos 5+6 : The confiscation military order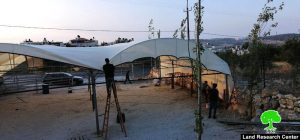 Photo 7: the project before the attack
In 31st January 2019, the occupation authorities served a halt of work order on Mahdi's project on the pretext of building without licenses.
Also in 4th  April 2019, the occupation authorities served a final demolition order that gave the owner only a week to demolish his facility, As the occupation's order said, in case the owner failed to  implement the operation before the dead line, the occupation troops will implement the operation and make him pay for the expenses.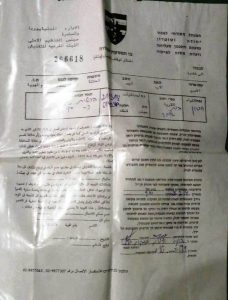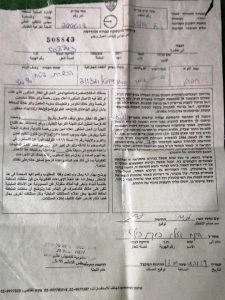 Photos 8+9 : the occupation's military orders
Noteworthy, the occupation authorities impose high fines on Palestinians who want their confiscated properties back, and starts selling them only after one month from the confiscation.
International Conventions and agreements pertaining demolition of houses and facilities:
Article 147 of Geneva fourth convention  : extensive destruction and appropriation of property, not justified by military necessity and carried out unlawfully and wantonly. ( it is considered a serious violation of the convention)
Article 53 of Geneva fourth convention that forbids destroying properties : Any destruction by the Occupying Power of real or personal property belonging individually or collectively to private persons, or to the State, or to other public authorities, or to social or co-operative organizations, is prohibited, except where such destruction is rendered absolutely necessary by military operations.
Article 33 of Geneva fourth convention: No protected person may be punished for an offence he or she has not personally committed.
Article 32 of Hague convention 1907 part g: To destroy or seize the enemy's property, unless such destruction or seizure be imperatively demanded by the necessities of war.
Article 17 of Universal declaration of human rights 10 –Dec- 1948:  No one shall be arbitrarily deprived of his property.
About Beit Ummar: [1]
It is located 12 km to Hebron city. The village's total area is 21,285 dunums, of which 1,375 dunums are considered the built-up area; around 16,977 people inhabit Beit Ummar (according to 2017 census).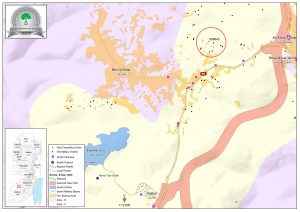 The Israeli occupation authorities confiscated 560.5 dunums from Beit Ummar for the favor of the bypass road no.60.  The occupation also confiscated 1,216 dunums for the favor of the following colonies:
Colony

Year of establishment

Dunums confiscated from Beit Ummar

Built-up area\dunums

No. of colonists

Karmei Zur

1984

179

289

623

Migdal Oz

1977

682

1,076.4

298

Kfar Etzion

1976

18.6

923.5

404

Efrat

1979

98.6

2,063.6

7,037

Alon Shevut

1971

237.8

934

3,146

Total

1216

5,286.5

11,508
[1] GIS-LRC
Prepared by
 The Land Research Center
LRC