IOF Demolish Number of Structures in Khirbet Ras Al-Ahmar/ Tubas Governorate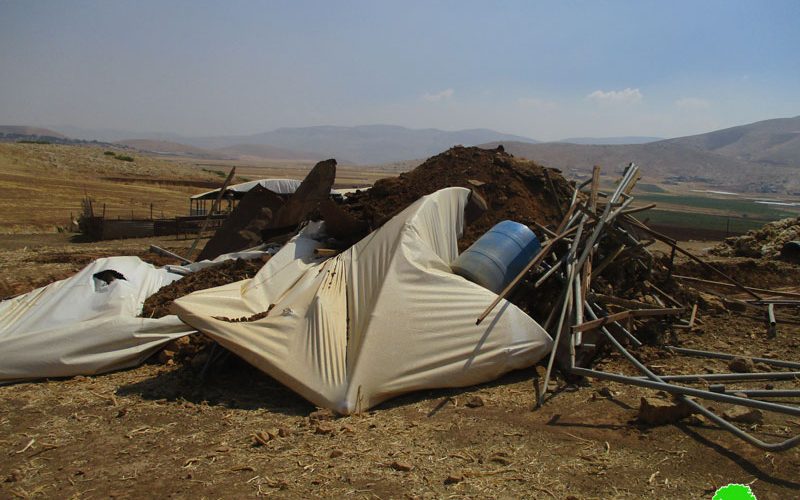 Violation : Demolition of residences and facilities.
Location: Khirbet Ras Al-Ahmar in the Jordan valley.
Date: 12/06/2019.
Perpetrator: The Israeli occupation forces.
Victims: four families from the village.
Description:
A massive army force accompanied by an officer from the building and organizing department in the civil administration raided Ar-Ras Al-Ahmar area in the Jordan valley, and carried out a mass demolition operation that left 16 residential and agricultural structures completely leveled to the ground.
Owners

Family members

Children under 18

Cattle heads #

Area m2

Number of facilities

Facility type

notes

Ala'a Bani Oudeh

9

5

75

45

1

Residential tent

Residential buildings donated by ACTED

45

1

Residential tent

60

1

A tent used as a barn

60

1

A tent used as a barn

60

1

Cattle barn

9

1

 

A tent used as a store

6

1

Pigeon coop consists of 30 birds

 

9

1

A tent used as a store for feed

2

1

An outer bathroom

2

1

A small bakery shop

Baker Bani Oudeh

2

0

40

40

1

A residential tent

 

60

1

A tent used as a cattle barn

 

Jameel Bani Oudeh

5

1

190

90

1

A tent used as a cattle barn

This the second time the occupation targets his structures

90

1

A tent used as a cattle barn

Suliman Bani Oudeh

5

3

150

45

1

A tent used as a cattle barn

 

60

1

A tent used as a cattle barn

 

total

21

9

455

683

16

 

 
Source: First hand field observation – Israeli violations monitoring section – LRC, June 2019
Pictures of the demotion 
The targeted owners received halt of work military orders on their structures in March 2019 , Read the report. The owners followed the licensing procedures with the legal department in Tubas governorate, but the occupation refused to provide them with licenses. In early May, the families received a demolition order on their structures on the pretext of building without licenses.
Jameel Bani Oudeh told LRC reporter:  " We have been living in Ras Al-Ahmar for years, we depend mainly on agriculture and animal husbandry for living , during all this time we suffered from Israeli settlers and troops continuous assaults and attacks , since 2005 to this day the occupation demolished our tents and barns at least 4 times, but our love for the land is the only thing that keeps us going".
Noteworthy, the Israeli occupation claims that Khirbet Ras Al-Ahmar is a closed military zone. Thus, IOF demolish structures and tents of the Khirbet without any preceding military orders , Ras Al-Ahmar is only one of many Khirbets in the Jordan Valley that are suffering from continuous Israeli human rights violations , The Khirbet is inhabited by about 18 families that originally came from Tamoun village , mainly Bsharat and Bani Oudeh families.
Khirbet Ras Al-Ahmar:
23 km southeast Tubas city,  Ras Al-Ahmar has a population of 74 people in 2017 census.
The Khirbet has a built up area of 36 dunums , Ras Al-Ahmar is considered a part of Tubas and all of the Khirbet's lands are classified in C area according to Oslo accords.
The occupation confiscated about (10362) dunums from the Khirbet lands for the following purposes:
Israeli settlements devoured about 4324 dunums , as the following:
| | | | |
| --- | --- | --- | --- |
| settlement | Establishment year | Area of the settlement | Number of settlers in 2018 |
| Beka'ot | 1972 | 2,404 | 215 |
| Hemdat | 1980 | 316 | 275 |
| Ro'i | 1967 | 1,604 | 174 |
8 Israeli military camps surround the settlement with an area of (6,038) dunums.
Prepared by
 The Land Research Center
LRC