IOF lay hands on a plot in 'Azzun / Qalqilya governorate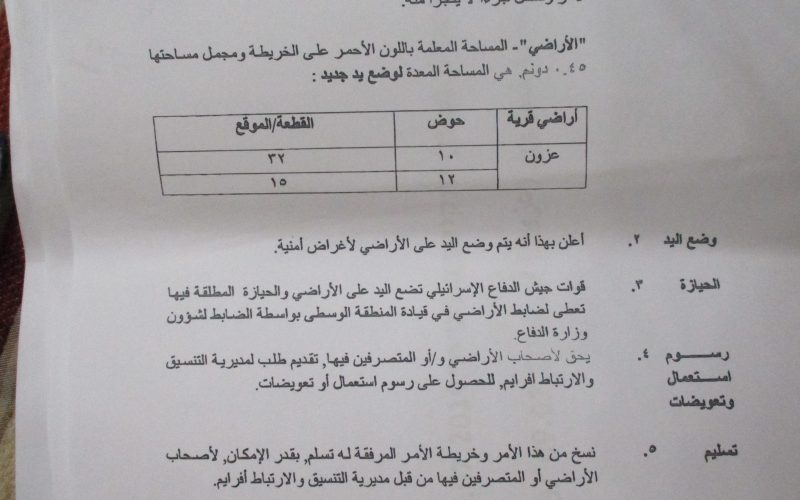 Violation: an eviction notice on 450 m2.
Location: 'Azzun town / East Qlqilya.
Date : 21/05/2019.
Perpetrator: The Israeli occupation forces.
Victims : People of 'Azzun.
Description:
21st May 2019, the Israeli occupation forces put a military notice on a power column in bypass 5 , which separates the town of 'Azzun.
According to the military notice the occupation army will lay their hands on 450 m2 of the town's eastern lands, in order to build up a watch tower that serves Israeli settlements. The targeted lands are on the side of the closed main road since 2000, while on the other side of the road , "Ma'ale Shamron" settlement is built over vast areas of confiscated lands from Palestinians.
The notice was signed by the Israeli army commander "Nidav Alon", numbered (19/11/T) , showed the targeted plots in 'Azzun:
Natural block 10 , piece 32.
Natural block 12 , piece 15.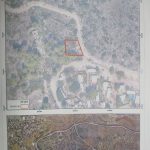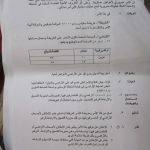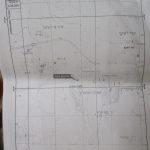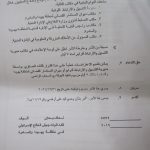 Military order (T / 11/19) which targets 'Azzun lands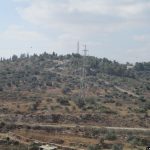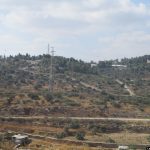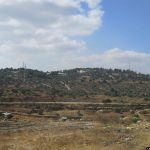 Ma'ale Shamron settlement on Azzun lands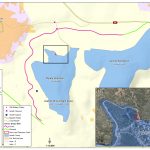 The targeted lands  belong to farmer Rashid Abed from 'Azzun town , who possesses an ownership deed as a  prove. Despite that the occupation authorities gave themselves the permission to take over the plot under claims that they say are related to security.
Hassan Shbaita from 'Azzun municipality told LRC reporter:
"In the recent few years "Ma'ale Shamron" settlements went through expansion several times , in addition to opening new bypass roads, which made the settlement attractive to new illegal settlers' families.
Shubaita is also worried that settlers may start using Palestinian's agricultural lands that are isolated behind the apartheid wall, for the expansion of the settlement, especially that their owners are not allowed to access them, or have restrictive accessing to them "only in special occasions", the occupation gave settlers the green line to carry out their attacks while protected by the occupation forces." 
About Azzun:[1]
10 km east Qalqilya, Azzun is surrounded by Khirbet Seer and Jayyous (north), 'Izbet At-Tabeeb and 'Asla (west), Kafr Laqif and Wadi Qana (east) , and Kafar Thulth (south) , and at the southern area from the village there are  "Ginot Shamron " and "Ma'ale Shamron" illegal Israeli settlements.
Azzun has a population of (9269) people in 2017.
Azzun has a total area of 9,472 dunums , of which 1,054 dunums.
The occupation confiscated 903 dunums for the construction of settlements:
"Ma'ale Shemron" , established in 1980 , ate up 276 people , and it consists of 1,002 settlers.
Bypass 55 devoured 416 dunums.
The segregation wall ate up 211 dunums and blocked 808 dunums, it is (2,111) , while the planned wall will eat up 151 dunums and block 397 dunums, and will be (1,514) m.
According to Oslo conventions , the town consists of:
B area: 2,5887 dunums.
C area : 6,885 dunums.
[1] GIS-LRC
Prepared by