Halt o work order on an agricultural barracks east Atouf/ Tubas governorate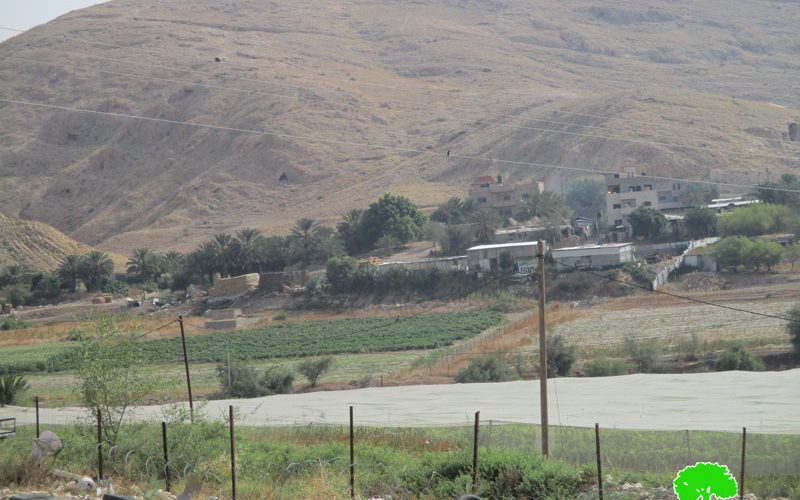 Violation: halt of work order on an agricultural barracks.
Location : Atouf village / Sahel Al- Buqaia east Tubas.
Date: 13/05/2019.
Perpetrator: The Israeli occupation building and organizing commission.
Victims: Rami Qalawla.
Description:
Monday, 13 May 2019, A massive army force raided Atouf east Tubas and served a stop-work order to Rami Qalawla (38 years) on his agricultural barracks, on the pretext of building without licenses in C area.
According to military order (267054) , 29 May will be the date of the subcommittee session in Beit El military court to decide the fate of the structure.
The owner told LRC reporter: " The barracks has an area of 90 m2, and caused 65 NIS , and was used as a store for agricultural tools and seeds".
Noteworthy, the owner is the supporter of a family of 6 , 4 of them are children.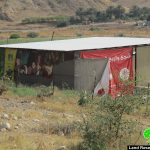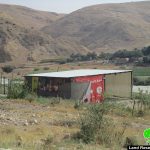 Photos 1-2: The targeted barracks
Noteworthy, the occupation have been carrying out several attacks in Sahel Al-Buqaia targeting Palestinian communities, such as Khirbet Yarza, khirbet Makhoul and Khirbet Atouf, in addition to conducting military trainings at the area , which caused great damages.
The occupation took over the treasure of Al-Bukaia valley:
Al-Bukaia valley has an area of 98,800 dunums , of which 25,000 dunums are A and B areas, as classified by Oslo conventions, while the rest are C areas , and a location of several colonial activities.
The occupation is prohibiting Palestinian farmers from using the valley properly, by measurements such as confiscating lands, denying farmers from accessing the area and imposes restrictions over water usage.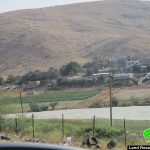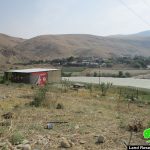 Photos 3-4: Atouf village / Sahel Al-Bukaia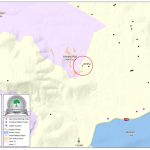 Prepared by
 The Land Research Center
LRC