Opening a new colonial road in Salfit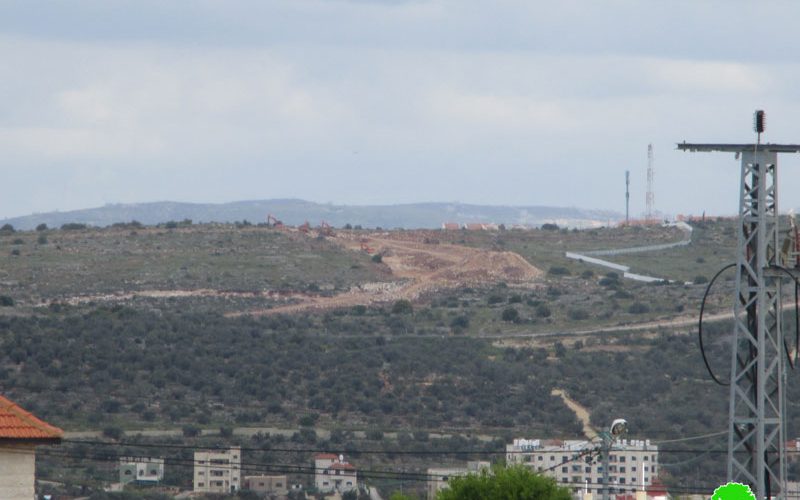 Violation: opening a new colonial road in Salfit.
Location: Wad Abdul Rahman / North east Salfit city.
Date: 21/04/2019.
Perpetrator: "Ariel" settlement.
Victims: number of farmers from the town.
Description:
 In the morning hours of 21st April 2019 , the Israeli occupation bulldozers carried on ravaging wide areas of Salfit lands. The targeted location is "Wad Abdul Rahman" which consists of postures and olive groves. The ravaging aims to construct a new colonial block south "Ariel" settlement, and a new road segment that connects the eastern entrance of "Ariel" to the northern entrance.
Reportedly, the ravaging reached about 80 dunums classified as a state property, and a part that belongs to farmers from Bani Nemrah and Madi families in Salfit.
Abdul Kareem Fattash head of Salfit municipality told LRC reporter:
"The Israeli scheme aims to devour vast areas of Palestinian –privately owned lands, for the favor of "Ariel" settlers".
Photos 1-4 : The ravaging
About Salfit:[1]
28 km south Nablus and 34 km north Ramallah, Salfit has a total area of 26123 dunums, of which 1700 dunums are the city's built up area, while there are 16202 dunums of agricultural lands.
The segregation wall isolated 1920 dunums of the town's lands.
According to the newest census conducted in 2017, Salfit has a population of 10350 people.
Families of Salfit: Bani Namra, Eshtayeh, Dahdoul, Shahin , Madi, Aram, Salim, Zbaidiya, Yasin, Hassan, Yunis , Odeh , Jebril, Maraita, Ismael , Fatoni, Uzriel, Al-Qaisi. There are families of refugees, and they are Abid, Al- Hmidat, Abu Shameh, Al-Rumhi, Al-Sayed, Al-She'ar, Abu Zayid, Al-Dhaher, Mhaboba, Al-Daqeq, Hadad , Al-Zurba, Awad.
Oslo conventions classified the area into :
 A area: 11941  dunums.
B area: 3337 dunums.
C area: 10845 dunums.
[1] GIS – LRC
Prepared by
 The Land Research Center
LRC