Confiscation of a Truck and Tools in Khirbet Al-Dear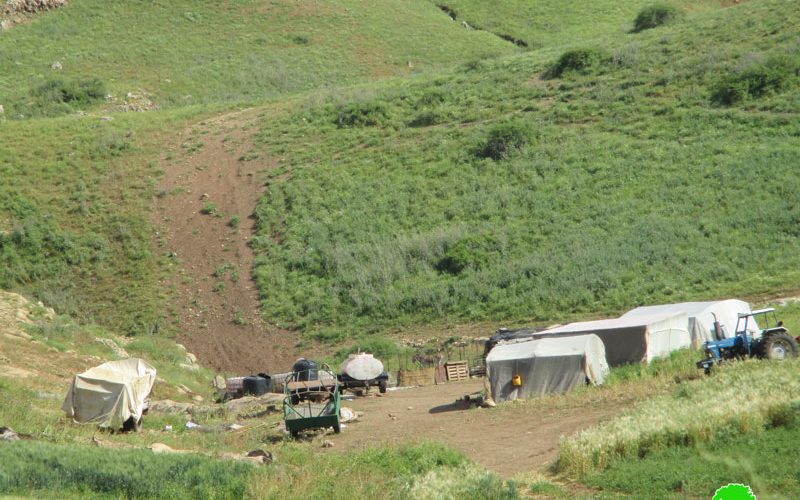 Violation: confiscation of Palestinian properties.
Location: Khirbet Al-Dear / by the Palestinian Jordanian borders.
Date: 15/04/2019.
Perpetrator: The Israeli occupation army.
Victims: people of Al-Dear.
Description:
Monday noon, 15th April 2019, A force from the Israeli occupation army and a vehicle related to the civil administration raided Khirbet Al-Dear east Ein Al-Baida'a and confiscated a truck type Mercedes 2008, in addition to tools that were used in installing solar cells, the truck belongs to Adli Abu Thera'a from Noor Shams refugee's camp.
Noteworthy, the truck owner is working with Economical and social development center of Palestine on a project funded by the Italian Cooperative Institution GVC, the project aims to provide and install solar cells for Al-Dear Bedouin community , in order to support Bedouins steadfastness in marginalized areas.
The responsible on colonization file Mutaz Bsharat told LRC reporter:
"Al-Dear area is one of the Palestinian communities on Palestinian –Jordanian borders , it was built on the remnants of a Palestinian village whose residents were forcibly evicted in 1967. Since that day , The occupation have been closing vast areas of Al-Dear considering it border areas. Nevertheless, the occupation troops confiscated tents and properties, sabotaged crops and demolished the hamlet several times."
Noteworthy, Residents of the area have legal documents prove that they own the lands, they live in tents and depend mainly on agriculture for living and have the least of life possibilities.
Prepared by
 The Land Research Center
LRC