"Adei Ad" settlers sabotage 55 olive trees in Turmus'ayya / Ramallah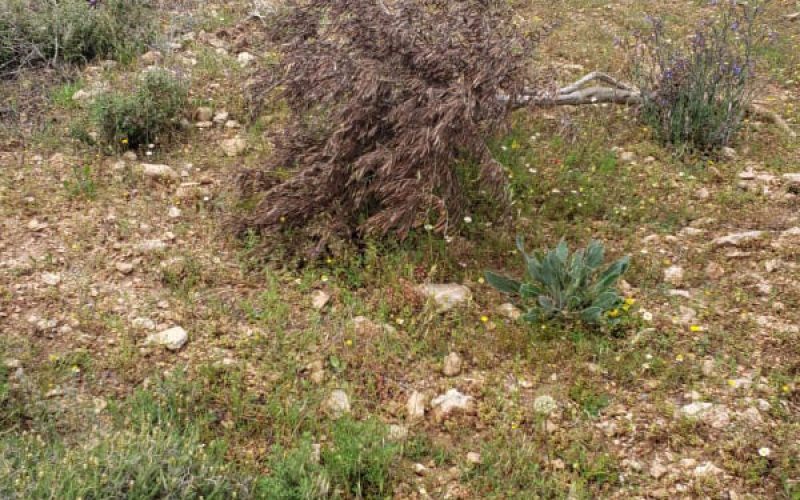 Violation: Sabotaging 55 olive trees.
Location: Al-Marba'a area – North East Turmus'ayya.
Date: 17 /04/2019.
Perpetrator: "Adei Ad" settlers.
Victims: 3 families in the town.
Description:
"Adei Ad" settlers sneaked into privately owned Palestinian lands, and sabotaged 55 olive trees.  Reportedly, The fanatic settlers targeted trees aging 25 years old, and belong to : Said Kharma (23 trees), Abdallah Kharma (11 trees), Rabah Kharma (21 trees).
Farmer Said Kharma (55) told LRC reporter: " I own  a 9 dunums land close to "Adei Ad" settlement, the Israeli occupation allows me and my neighbors to access our plots only twice a year, the first one is for two days in olive harvesting season, and another time for two days during cultivation season, in other days we are not allowed to go to our own lands.
When we found out that they destroyed our trees we called the Israeli police through the Palestinian coordination office but nothing was done to stop such assaults from occurring."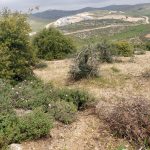 Rabah Al-Araj told LRC reporter: "In the recent years, Turmus'ayya lands were targeted especially in As-Seder , Al-Marba'a and Al-Dhahrat. According to LRC reports, fanatic settlers sabotaged more than 400 olive trees and saplings , despite the many complaints to the Israeli occupation authorities, nothing was done to stop such attacks from occurring".
About Turmus'ayya:
 It is located 25 km to the north east of Ramallah city. It has a population of 3736 people (according to a 2007 census). Its total area is 18139 dunums, 1350 of which are built-up area. About 11218 dunums of land are under Area B (PA is in charge of civil matters with Israel responsible for security) and 6921 dunums are under Area C (Israel maintains full security and administrative control).
The Israeli occupation confiscated vast areas of the village for the benefit of the following colonies:
Shilo and Mizpe Rahel devoured 1023 dunums
Mizpe Rahel  devoured 706 dunums
The bypass road number 60 stole 12.5 dunums