The Israeli occupation authorities ban tens of Jerusalemites from entering Al-Aqsa mosque/ occupied Jerusalem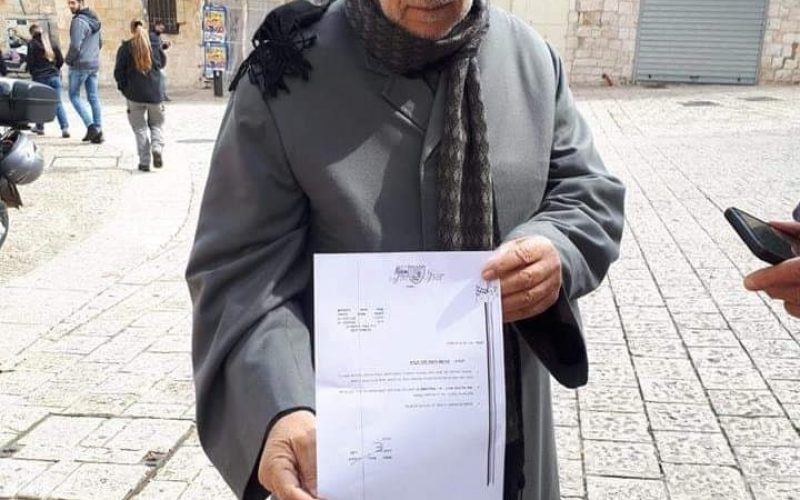 In March 8th 2019, the occupation's police in Jerusalem issued tens of restraining orders that bans political, religious personalities and waqf employees from entering the Al-Aqsa for weeks or months.
The Israeli police have arrested the Jerusalem Islamic Waqf head Sheikh Abdel-Azeem Salhab, and banned him from al-Aqsa mosque for 1 week , then he received another restraining order that bans him from entering the holy site for 6 months. Same measures were taken against the Islamic council deputy director Shaikh Najeh Bkairat, who was banned from entering the mosque for 4 months, and Shaikh Raed Da'ana head of preaching department was also banned from entering the Al-Aqsa.
Nevertheless, restraining orders were served to The responsible on the Jerusalem File Mr Hatim Abdul –Qdir , Dr Mahdi Abdul Hadi is banned for a week, Palestinian society prisoners' club head  is banned for 40 days , Citizen Arabi Ar-Rashq is banned for 15 days in addition to tens of guards.
 Palestinians prayed outside a part of the Al Aqsa mosque compound that Israel sealed off , Israel accused them  of attempting to change the status quo at the sensitive site by convening in the closed area last week, And arrested all Palestinians who were there.
On the other hand, dozens of settlers enter the holy site to perform their prayers  protected by the occupation's army and police.