Ravaging lands and uprooting trees in Jabal Abu Soda East Beit Ummar/ Hebron governorate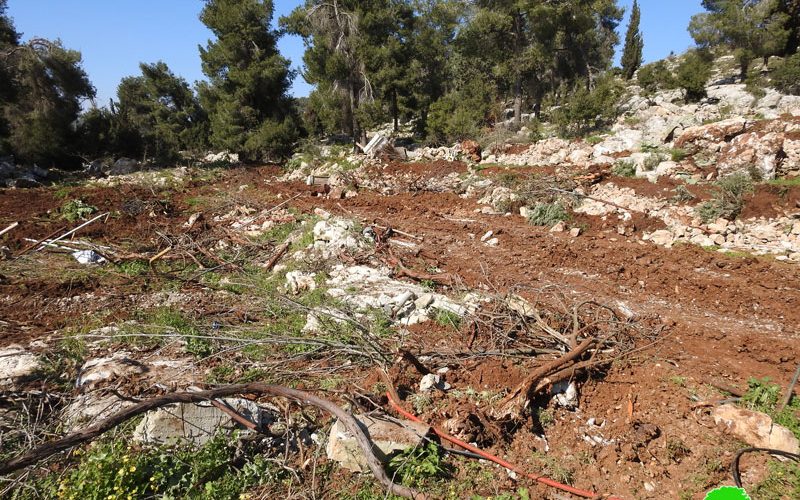 Violation: Ravaging lands and uprooting trees.
Date: 10/03/2019.
Location: Jabal Abu Soda- Beit Ummar village / Hebron governorate.
Perpetrator: The Israeli occupation civil administration.
Victims: Khaled As-Samaheen family.
March 10th , The Israeli occupation authorities ravaged a land owned by Khlid As-Samaheen from Jabal Abu Soda area , East Beit Ummar.
As-Samaheen told LRC reporter that he was shocked when Israeli troops and their bulldozers showed up in his lands and started uprooting trees , ravaging soil and destroying retaining walls.  The ravaging was implemented using a "Hyundai" excavator and a "Volvo" bulldozer.
The fanatic troops destroyed 1800 m2 land, and uprooted about 80 fruitful trees:
| | | |
| --- | --- | --- |
| # | type | Number of the uprooted |
| 1 | olives | 10 |
| 2 | almonds | 40 |
| 3 | grapes | 10 |
| 4 | citrus | 10 |
| 5 | cactus | 10 |
The occupations machineries also uprooted mint, garden saga and thyme plants from the land. Noteworthy, As-Samaheen did not receive any preceding orders and the targeted land provides a source of income for his family of 6, of which 3 are children.
About Beit Ummar:[1]
It is located 12 km to Hebron city. The village's total area is 21,285 dunums, of which 1,375 dunums are considered the built-up area; around 16, 977 people inhabit Beit Ummar according to 2017 census.
The Israeli occupation authorities confiscated 560 dunums from Beit Ummar for the favor of the bypass road no.60.  The occupation also confiscated 1,216 dunums for the favor of the following colonies:
Colony

Year of establishment

Dunums confiscated from Beit Ummar

Built-up area\dunums

No. of colonists

Karmei Zur

1984

179

289

632

Migdal Oz

1977

682

1,076.4

298

Kfar Etzion

1976

18.6

925,5

404

Efrat

1979

98.6

2,063.6

7,037

Alon Shevut

1971

237.8

934

3,146

Total

1216

5,286.5

11,508
Source: Geographic Information System- Monitoring Israeli Violations Team- Land Research Center
The Israeli occupation authorities' policy  of ravaging and destroying Palestinian lands can only be regarded as a violation of all  international conventions  and agreements like:
Article 147 of Geneva fourth convention  : extensive destruction and appropriation of property, not justified by military necessity and carried out unlawfully and wantonly. ( it is considered a serious violation of the convention)
Article 53 of Geneva fourth convention that forbids destroying properties : Any destruction by the Occupying Power of real or personal property belonging individually or collectively to private persons, or to the State, or to other public authorities, or to social or co-operative organizations, is prohibited, except where such destruction is rendered absolutely necessary by military operations.
Article 33 of Geneva fourth convention: No protected person may be punished for an offence he or she has not personally committed.
Article 32 of Hague convention 1907 part g: To destroy or seize the enemy's property, unless such destruction or seizure be imperatively demanded by the necessities of war.
Article 17 of Universal declaration of human rights 10 –Dec- 1948:  No one shall be arbitrarily deprived of his property.
[1] GIS-LRC
Prepared by
 The Land Research Center
LRC