Halt of work orders on agricultural wells – Az-Zawiya/ Salfit governorate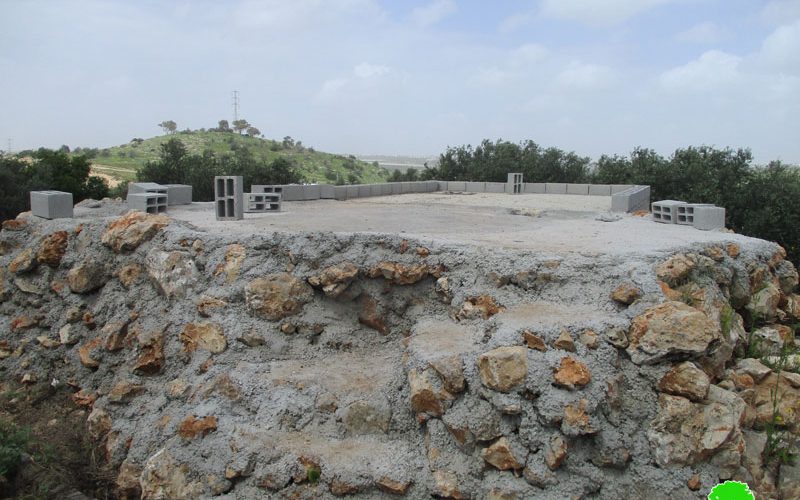 Violation: Halt of work orders on rainwater harvest wells.
Location: Az-Zawiya/ Salfit governorate.
Date: 27th March – 2019.
Perpetrator: The Israeli occupation civil administration.
Victims: 5 Families in the town.
Description:
 Israeli occupation troops and an officer from the building and organizing department in the civil administration raided "Sarisya" in Az-Zawiya east Salfit, and served military orders to 5 farmers in the town. The military orders targeted agricultural wells in the Farmers' lands that the occupation claims were built before getting proper licenses.
As it is said in the military order, the occupation sets April 2019 as a dead line to complete licensing procedures, which is in line with the subcommittee session in "Beit El" military court, to decide the fate of the structures.
Naim Shqair , head of Az-Zawiya municipality told LRC reporter:
"One year ago, we carried on taking measures that aim to develop agricultural sector in "Sarisya", in coordination with the Palestinian Agricultural Development Association and with the funding of the Arab Development Fund, the project includes rehabilitating agricultural lands and establishing water cisterns, but the occupation as always, is trying to obstruct the project".
The following table shows more information about the damages as it is reported:
Farmer's name

Number of family members

Minors

-18

Area of the targeted well m3

Area of agricultural lands supplied with water

Military order number

Ibrahim Shqour

4

2

60

9

Jamal Misleh

7

1

35

6

Ghassan Abu Naba'a

5

3

35

6

Anan Al-Ashqar

6

2

40

9

N/A

Yusif Misleh

8

3

45

9

N/A

total

30

11

215

 

 
About Az Zawiya:[1] 
 Located 17 kilometer west of Salfit and adjacent to the Green Line, Az Zawiya has a population of 4754 people according to statistics conducted in 2007. 81% of the population depend on agriculture and sheep grazing while the rest work in governmental jobs or private sector projects. Az Zawiya has a total area of 12,000 dunums, 693 of which are a built-up area of the town. Most agricultural lands in Az Zawiya are planted with olive, figs, and cactus.The Israeli occupation confiscated 1747 dunums of Az Zawiya lands for colonies and the Apartheid Wall as the following:
Two colonies are built on Az Zawiya lands. The first is Mazor Atiqa which was built in 1986 and confiscated 573 dunums. The other is Elkana which was built in 1977 and confiscated 57 dunums. Elkana is inhabited by 3050 colonists.
Bypass road number 5 and it devoured 520 dunums of Az Zawiya lands
The Apartheid Wall which destroyed 579 and isolated 4228 dunums
[1] GIS-LRC
Prepared by
 The Land Research Center
LRC