Final- demolition order on a residence in the Hebron town of Beit Awwa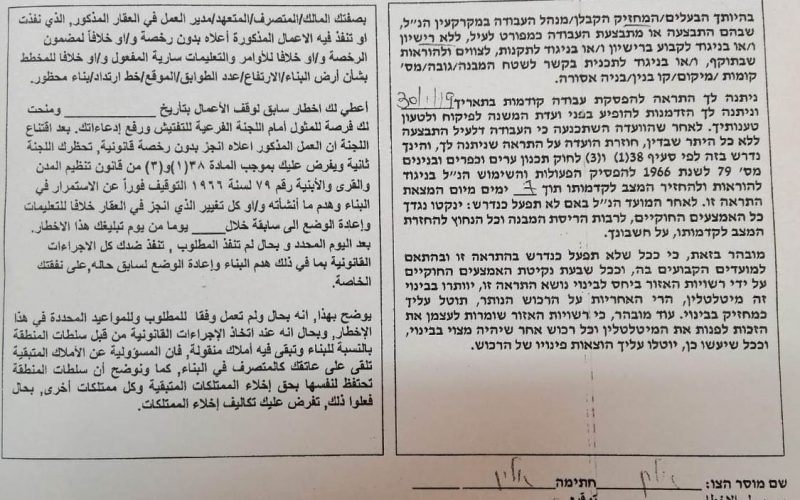 Violation:  serving a final demolition order on a residence .
Location:  Beit Awwa town- Hebron governorate
Date: March 29

th

 2019.
Perpetrators: Israeli Civil Administration.
Victims:  citizen Ali Suwaity.
Details:
Israeli Occupation Forces notified on March 3rd 2019, a residence owned by citizen Ali Suwaity with stop-work order and immediate demolition, on the claim of "unlicensed construction" . Noteworthy, the residence is founded in Beit Awwa town, west Hebron governorate.
Suwaity said that a vehicle relative to Israel Civil Administration and an army patrol raided the area of Khallet Al-Barakeh, west of the town and basted a stop-work order on his house. Noteworthy, the force took photos of the residence before they had left the place.
According to the order number (509108), the owner has 7 days to demolish his properties, in case he breached the deadline, the occupation troops will implement the operation and file the expenses on the owner.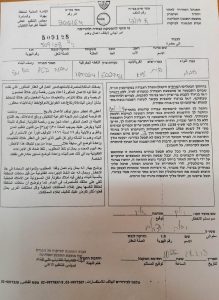 Photo 1: The demolition order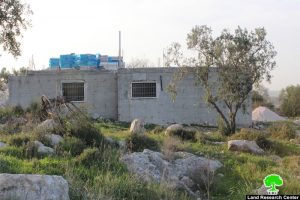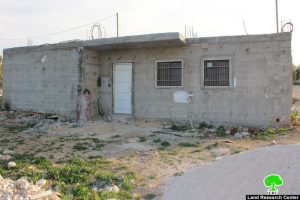 Photo 2+3: The targeted house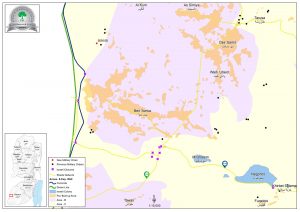 It is reported that the targeted house (120 m2) is built of strengthened cement since 2016 and consists of 1 floor; the house is the home of a family of 4, of which 2 are children.
About Beit Awwa:[1]
Beit Awwa  is located 17 km to the west of Hebron city and is edged by Deir Samit village from the north,   occupied territories of 1948 from the west, Dura village from the east and Sikka and Tawas villages from the south.
Its population mounts to 10,399 (2014 census) people. Beit Awwa's total land area is 22,428 dunums, of which1048 dunums are considered the village's built-up area.
Israeli colonies confiscated 152 dunums from Beit Awwa lands. Negohot colony that was established in 1982 confiscated around  112 dunums and is now home for 134 colonists. Also, Mirshalem colony confiscated 40 dunums from the village.
The apartheid wall is founded on 4061 meters from the area and was reported to confiscate 406 dunums and to isolate 380 other dunums behind its construction.
The lands of Beit Awwa  are classified according to Oslo Accords as the following:
11846 dunums (53%) are classified as area B
10582 dunums (47%) are classified as area C
[1] GIS-LRC