Destroying As-Sa'adah street in Kubar – North Ramallah
Violation:  Destroying As-Sa'adah street.
Location : Kubar Village – North west Ramallah.
Date: 11/03/2019.
Perpetrator: The organization department in the Israeli occupation civil administration.
Victims: families of Kubar.
Description: An army force and an officer from the infrastructure department in the Israeli occupation civil administration raided Kubar village north Ramallah, and carried on ravaging a road that is (1500 m * 5 m), known of As-Sa'adeh road.
Reportedly, the targeted road connects Kubar to Ramallah villages in the north – west such as (Beitillu, Aj-Janiya, Ras Karkar , Jammala and Deir Ammar), the road is paved and considered vital .
Kubar municipality head Izzat Badwani told LRC reporter:
"1 year ago, we started paving the road which leads to Beitillu and to about 4500 dunums of olive groves in "Safhet Mesh'al", "Abu AR-Rub" and "Ein Az-Zahleh" areas, we were surprised on Monday that the occupation troops and their machineries are destroying the road, we tried to contact with the Israeli coordination office, but that did not help"
Noteworthy , the road serves several farmers through facilitating their baths to their land, and destroying it will it harder for them to reach and cultivate their lands.
About Kubar village:[1]
15 km North West Ramallah, Kubar is surrounded by Jibya , Burham and Umm Safa (north), Beitillu and Deir Nitham (west), Birzeit (east) and Al-Mazra'a Al-Qebaliya and Abu Shkhaidem (south).
Kubar has a population of (4,320) people in 2017 census, and an area of 9,905 dunums, of which 711 dunums are the town's built up area.
Oslo conventions:
B area : 5,549 dunums.
C area: 4,356 dunums.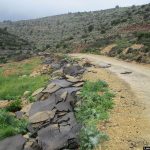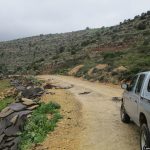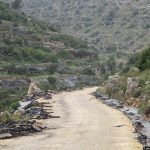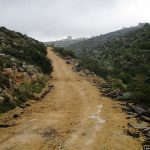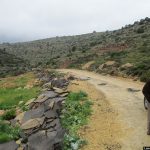 Photos 1-5: pictures of the targeted road
[1] GIS-LRC