Demolition of a car washer and 2 barracks in Haris / Salfit governorate
Violation: Demolition of a car washer and 2 barracks.
Location: Haris village / west Salfit village.
Date: 4th march 2019.
Perpetrator: The Israeli occupation army.
Victims: Brothers Fadi and Nadi Suliman.
Description:
At the middle of the night on Monday, dozens of settlers along with an officer from the building and organizing committee raided Haris village, and carried on demolishing a car washer and 2 barracks, and destroyed a Baton floorbefore they withdrew. The occupation claims that the structures were built before getting proper licenses in area C according to Oslo conventions.
One of the affected, Fadi Suliman told LRC reporter:
"We woke up at 1:00 am, and were shocked to see dozens of troops in front of our properties, Without notice, they carried on demolishing them. The so called building and organizing officer threatened to demolish any new structures built in the same location, which means that my family and I are now left without a source of income and without any hopes to create a new one. Noteworthy, we applied for licenses but the occupation refused to grant us any". The following table shows more information about the damages:
Affected citizen

Family members

Children under 18

damages

remarks

Fadi Suliman

8

6

-Demolition of a car washer 20 m2.

– Demolition of 2 barracks of zinc (each 45 m2).

-Destruction of a baton floor 500 m2.

-Destruction of electricity cables 22 m.

Same owners were subjected of demolition in December 2018

Nadi Suliman

7

5

total

15

11

 

 
Source: First hand field observation – Land research center – March 2019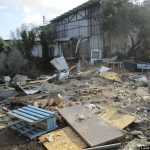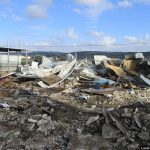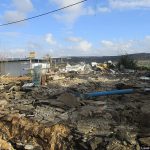 About Haris:[1]
7km to the northwest of Salfit governorate, Haris is there with a total land area of 8769 dunum, of which 190 are the built-up area. Haris is surrounded by the villages of Deir Istiya from the north, Kifl Haris from the east, Kfar ad-Deek  and Bruqin from the southwest and Qarawat Bani Hassan from the west.
Haris has a total population of 3740 people according to the census of Palestinian Central Bureau of Statistics for 2009. Those people relate to the following families: Abu Atta, Dawoud, Salamih, Sultan, Shihada, Souf, Faz', Awwad, Qasim, and Klaib
[1] GIS-LRC
Prepared by
 The Land Research Center
LRC