The occupation threatens to demolish a playground in Umm Al-Khair – East Yatta/ Hebron governorate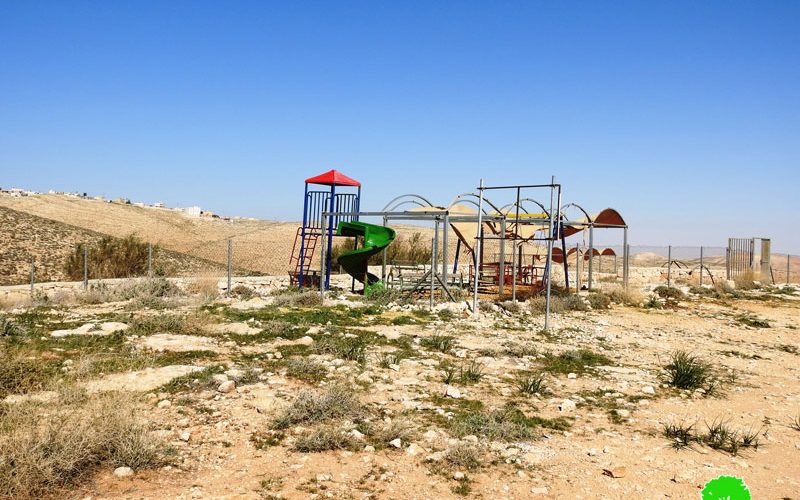 Violation: Threatens to demolish a play ground.
Date: 18/2/2019.
Location: Umm Al-Khair – Yatta town / Hebron governorate.
Perpetrator: The Israeli occupation civil administration.
Victims: children of Umm Al-Khair.
Description:
The occupation's authorities threatened to demolish a children playground in Umm Al-Khair on the pretext of building before getting proper licenses. The occupation's troops placed a notice on the property, giving the responsible only 3 days to object on the demolition resolution.
In 18 /1/2015 , the occupation troops issued a halt of work military order on a children playground, which is built on 1 dunums within Umm Al-Khair natural reserve area, Read LRC report.
It should be marked that Khirbet Umm al-Khair is adjacent to Karmeil colony that is located on confiscated lands from the people of Um al-Khair. The Israeli occupation authorities target the Khirbet with stop-work and demolition orders for the sake of forcing residents out of it; this would make a room for the occupation and colonists to expand their colonies in the nearby.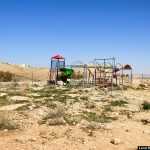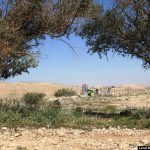 Khirbet Umm Al-Khair in lines:
The khirbet is inhabited by people from Al-Hathaleen clan , who settled there several decades ago after Israel expelled them from the Arad desert in 1948 , it is reported that Umm Al-Khair population reached 686 people in 2017. the nearby settlement, Carmel, lies on lands confiscated from the Bedouin of that village. Carmel settlers frequently attack Bedouins of Umm al-Khair. Noteworthy, Regavim pro-settlement NGO targets the Khirbet , and provokes to demolish any new structures.