The occupation demolishes Palestinian structures in Khirbet Ar-Ras Al-Ahmar / Tubas governorate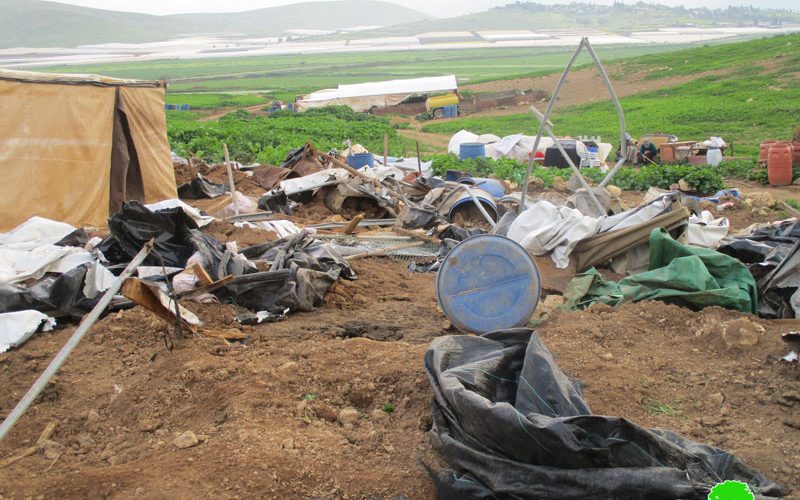 Violation: demolition of residential and agricultural structures on the pretext that it lacks licensing.
Location: Khirbet Ras Al-Ahmar.
Date: 19/02/2019.
Perpetrators: The Israeli occupation building and organizing committee.
Victims: Family of Fatima Bane Oudeh.
Description:
In the early morning hours of Tuesday, dozens of the occupation troops raided Khirbet Ar-Ras Al-Ahmar in the northern Jordan valley area and carried on demolishing residents and barns on the pretext of building before getting proper licenses from the occupation. The following table shows more information about the damages: 
Affected citizen

Family members

Children under 18

Number  of sheep

Affected structures

remarks

Fatima Bane Oudeh

6

1

250

-3 residential tents (each 40 m2)

-2 tents used as barns (each 60 m2)

– 3 barracks built of zinc.

– A barn 350 m2.

– 2 water reservoirs (each 2 m3)

– a mobile bathroom

– the residential tents are a donation from Action Against Hunger and ACTED

 

-The bathroom is a donation from the Hydrologists group
Khader Bani Oudeh (23 years) , one of the family members told LRC reporter:
"We live in the Eastern side of Khirbet Ar-Ras Al-Ahmar since more than 25 years, and we depend mainly on agriculture and animal husbandory for living"
On the opposite side of the demolished structures, sets Fatima Bane Oudeh (75 years) on a rock lamenting the family's miserable fate, same seen was in sight in 2002 when the family's properties were demolished and they were thrown out to the streets, the family headed to Ras Al-Ahmar and started a new life , which was now destroyed by the occupation.
Noteworthy, Despite that Bedouins of Ras Al-Ahmar live a miserable life with the least of life possibilities; the community was demolished 18 times in the recent ten years.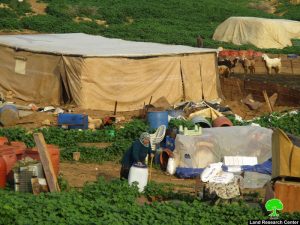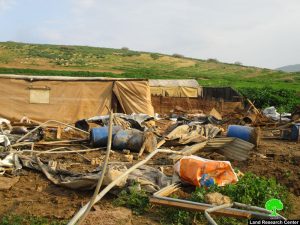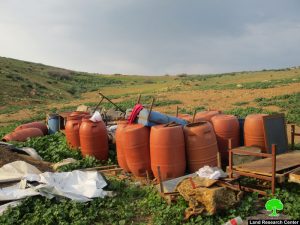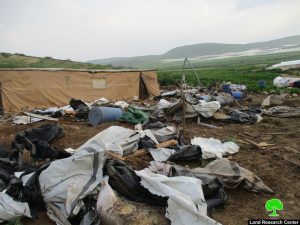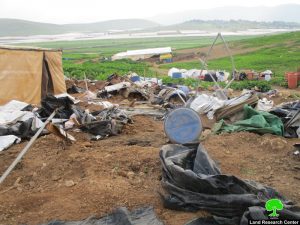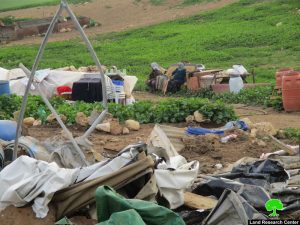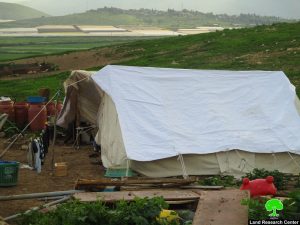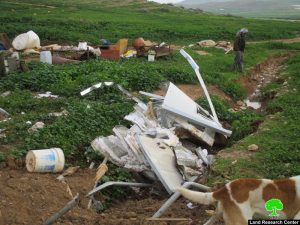 Photos 1-8: demolition in Ar-Ras Al-Ahmar
The Israeli demolition policies in International laws:
In reality, the issue is not all about unlicensed construction than it is on the occupation's intention to take over more lands in the area of their control (Area C according to Oslo Accords). The Israeli occupation considers such lands as a colonial reserve, which will be hard to negotiate on in any future agreements with Palestinians.
International Conventions and agreements pertaining demolition of structures in occupied territories: 
Article 147 of Geneva fourth convention  : extensive destruction and appropriation of property, not justified by military necessity and carried out unlawfully and wantonly. ( it is considered a serious violation of the convention)
Article 53 of Geneva fourth convention that forbids destroying properties : Any destruction by the Occupying Power of real or personal property belonging individually or collectively to private persons, or to the State, or to other public authorities, or to social or co-operative organizations, is prohibited, except where such destruction is rendered absolutely necessary by military operations.
Article 33 of Geneva fourth convention: No protected person may be punished for an offence he or she has not personally committed.
Article 32 of Hague convention 1907 part g: To destroy or seize the enemy's property, unless such destruction or seizure be imperatively demanded by the necessities of war.
Article 17 of Universal declaration of human rights 10 –Dec- 1948:  No one shall be arbitrarily deprived of his property.