The Occupation authorities turn forests into a construction area for the favor of  "Ma'ale Shamron"
Violation: Turning a Palestinian forest into a built up area for an Israeli illegal settlement.
Location: Azzun village – East Qalqilya.
Date: 13 February 2019.
Perpetrator: The Israeli occupation army.
Victims: People of Azzun.
Description:
Wednesday, 13 February 2019 , The Israeli occupation Army commander in West Bank "Nidav Alon" revealed an expansion scheme for "Ma'ale Shamron" on Azzun Lands.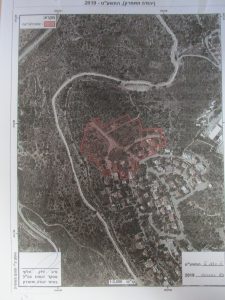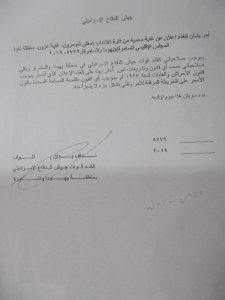 Photos 1-2: The military order attached with a map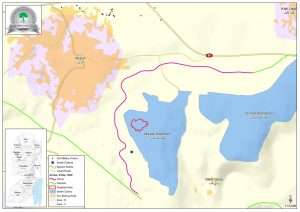 An aerial plan shows the location of the targeted lands
The military order includes changing land-use of 70 dunums as shown in the map from forests into a residential built up area for Ma'ale Shamron illegal settlement.
Noteworthy, Israeli bulldozers were seen ravaging lands in the same location also known as : "Khallet Abu Zina" and "Al-Sfah".
Hassan Shbita from Azzun municipality told LRC reporter:
"There is an imminent  threat on farmers of the village , as the plan will not stop at this point , but will expand to reach out to privately owned lands, it is also possible that the occupation forces will ravage plots around the area for public usage claims."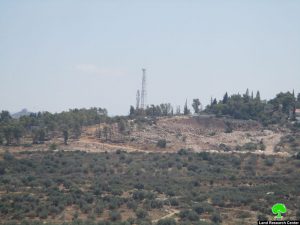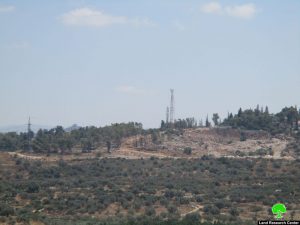 Photos 4-6: Ravaging the area for colonial expansion
Maale Shomron: A threat to the Palestinian land and environment
The colony of Maale Shomron was established in 1980 on lands classified as "State Property". In years, the colony expanded to confiscate tens of agricultural dunums from the villages of Azzun, Kfar Thulth and Kfar Laqif from Qalqiliya and the town of Deir Istiya from Salfit governorate.
In 2001, the Israeli occupation set up many military points and a security fence in the periphery of the colony. As a result, tens of agricultural dunums got destroyed where some lands became isolated behind the fence. Noteworthy, those lands became subject for colonial activities such like establishing public parks, gardens and governmental buildings.
About Azzun:[1]
10 km east Qalqilya, Azzun is surrounded by Khirbet Seer and Jayyous (north), 'Izbet At-Tabeeb and 'Asla (west), Kafr Laqif and Wadi Qana (east) , and Kafar Thulth (south) , and at the southern area from the village there are  "Ginot Shamron " and "Ma'ale Shamron" illegal Israeli settlements.
Azzun has a population of (9269) people in 2017.
Azzun has a total area of 9,472 dunums , of which 1,054 dunums.
The occupation confiscated 903 dunums for the construction of settlements:
"Ma'ale Shemron" , established in 1980 , ate up 276 people , and it consists of 1,002 settlers.
Bypass 55 devoured 416 dunums.
The segregation wall ate up 211 dunums and blocked 808 dunums, it is (2,111) , while the planned wall will eat up 151 dunums and block 397 dunums, and will be (1,514) m.
According to Oslo conventions , the town consists of:
B area: 2,5887 dunums.
C area : 6,885 dunums.
[1] GIS-LRC
Prepared by