The Israeli occupation halt work on an agricultural road in Deir Ballut town / Salfit governorate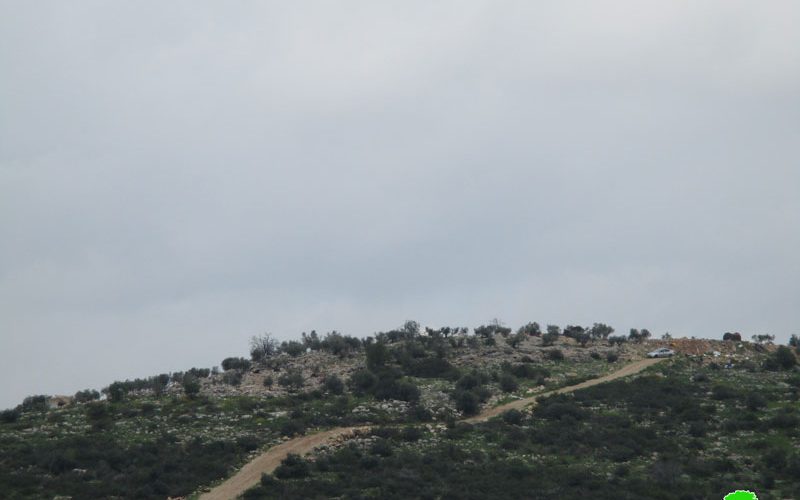 Violation: Halting work on an agricultural road.
 Location: Deir Ballut / Salfit governorate.
Date: 25/02/2019.
Perpetrator: The Israeli occupation army.
Victims: Farmers and landowners.
Description:
Monday , noon 25 February 2019, The Israeli occupation troops and a vehicle from the Israeli occupation civil administration raided Deir Ballut town  East Salfit , and targeted a road that is being rehabilitated within a project implemented by the Palestinian ministry of agriculture .
The fanatic troops confiscated a road roller used to combat asphalt on the construction of the road , and belongs to Waseem Al-Azzam company.
The road is reported to have an area of (1.5 km * 6 m) in "Khalet Sonda" and "Al-Mraij".
Yahia Odeh , mayor of Deir Ballut told LRC reporter:
"This road is vital and serves 1300 dunums of olive groves that provide a sub-side source of income for several families in the town.
About 1:00 pm , Israeli troops raided the area and confiscated the worker's identity cards  a long with a road roller and lead it to an unknown location"
Noteworthy, Deir Ballut is targeted by the occupation's raids, attacks, and military orders , a total of 40 halt-of-construction and demolition decrees were issued by the Israeli occupation authorities against houses and other structures in the village of Deir Ballut. All these measures were taken under the same pretext of building without permits in Area C or of being located close to the path of the Israeli Segregation Wall which surrounds the village from west and southwest.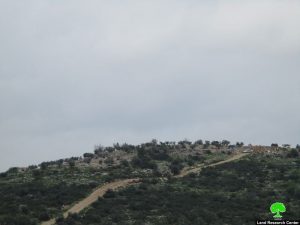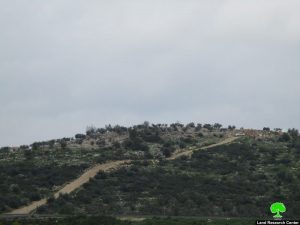 Photos 1+2 : The targeted road
The Village of Deir Ballut:[1]
The village is located on the Green Line west of the Governorate of Salfit at a distance of 20 kilometers from the City of Salfit. The total area of the village is about 13,941 dunums of which 503 dunums are its built-up area. Its population is about 4500, according to the Deir Ballut Municipality, most of whom depend on agriculture as the main source of income.
The dependency of agriculture has risen sharply after the inception of the second Intifada due to the inability to access Israeli job market.
The main agricultural products of the village include garlic, okra, cucumbers, wheat and olives. The presence of a water spring in Wadi Al Ain in the southern parts of the village has helped the agricultural sector to prosper. A for the drinking water of the residents of the village, they rely on water cisterns as well as on the Israeli Water Company. 
In terms of the main clans in the village, there are 9 of them including Tuffaha, Khair, Abdullah, Qasem, Qaroush, Mishel, Mustafa, Musa and Hadrous
[1] GIS-LRC
Prepared by
 The Land Research Center
LRC