Ravaging pastoral lands / Tubas governorate
Violation: Ravaging Palestinian lands in order to install a water line for settlers.
Location: Kardala village – The Northern Jordan valley area/ Tubas governorate.
Date: 05/02/2019.
Perpetrator: The Israeli national water company "Mekorot"
Victims: Farmers in the town.
Description:
Reportedly, people of Kardala woke up this Tuesday on the voices of Israeli machineries ravaging their lands in order to place a water line for the alien settlers, which destroyed areas of postures affecting tens of animal husbandmen.
Ghassan Faqha chairman of Kardala village council told LRC reporter:
"We were shocked when the occupation carried on ravaging lands in order to place a water line that serves the illegal settlers, which will mostly pass destroy parts of agricultural and pastoral Palestinian lands"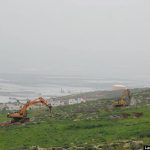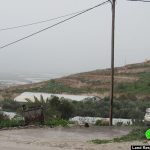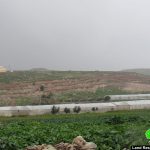 Photos 1-3: the ravaging for the new water line
Human Rights activist Aref Daraghmeh told LRC reporter:
"The Israeli occupation installs a new water line at the same time with destroying Palestinian water networks in Kardala. At the time Palestinians are denied from their right of using their water resources, the occupation steals Palestinian water and lands while the world stands still."
A suffering journey:
Kardala is 18 km away from Tubas governorate; the village is still unacknowledged by the Israeli occupation. It became an interest for the occupation due to the fact that it is located on lands classified C according to Oslo accords. According to the data of Kardala village council, there are 8 structures notified with stop-work orders, not mentioning the 13 facilities that were demolished in the area. 
People of Kardala come hail originally from Tubas city; more specifically from the following families ( Sawafta, Daraghmeh, Qabha)