Israel to Halt Work on 5 Residential and Agricultural Structures in Beit Amin / Qalqilya Governorate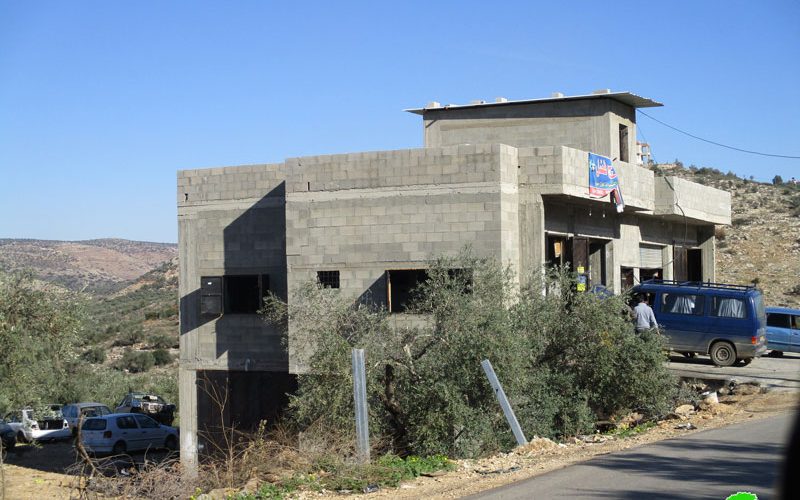 Violation: Serving 5 Halt of work orders on structures and facilities.
Location: Beit Amin Village East Qalqilya.
Date:04/02/2017.
Perpetrator: The Israeli occupation building and organizing commission and army.
Victims: 5 Palestinian families from the village.
Description:
An army force accompanied by the building and organizing commission raided Beit Amin village east Qalqilya , and served halt of work military orders to 5 structures in the town, on the pretext  of building without licenses in C area.
As the military order says, the occupation set 27 December as the building and organizing session in "Beit El" court to decide the fate of the notified structures.
The following table shows the names of the affected by the military orders:
#

Affected citizen

Family members

Children under 18

Area (m2)

the targeted facility

Military order number

Photo number

1

Mohammad Yusif

9

4

280

A house consists of 3 floors (under construction)

2

Sa'ad Omar

5

3

360

A house consists of 2 floors (under constriction)

90

Barracks 3(Aluminum w4orkshop)

1000

1 dunums yard

3

Fadel Omar

8

3

180

2 floors (the first one is an under construction apartment)

180

The second floor consists of stores (garage)

4

Omar Omar

5

2

90

An under construction agricultural room (built of bricks)

5

Sameer Ash-Shaikh

4

2

60

An under construction agricultural room built of zinc and bricks

total

31

14

2240

 

 

 
Like most other Palestinian communities, Beit Amin is targeted by the Israeli occupation. Reportedly, there are more than 12 threatened residential and commercial structures  , and with this report the number reaches 17.
About Beit Amin:
8.8 km south east Qalqilya  , Beit Amin is surrounded by  Seneria village (east), "Izbet Salman" (west), "Al-Mudawar" and "Izbet Ashqar" (south) and "Azzun Atmeh" (south).
According to the Palestinian central bureau of statistics, Beit Amin is populated 451 people in 2017 census, that belong to several clans : Ahmad , Ash-Shaikh and Omar.
Beit Amin has a total area of 1566 dunums , 102 dunums are the towns built-up area, 1252 dunums are arable lands. While, The Israeli occupation confiscated 54 dunums for the illegal settlement  "Shaare Tikva" .
Prepared by
 The Land Research Center
LRC