Eviction order on "Khallet Ad-Dabe'a" lands – Masafer Yatta / Hebron governorate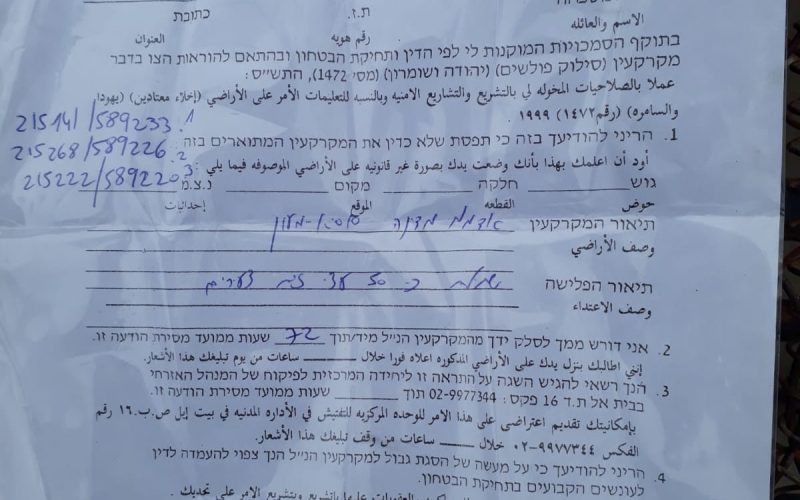 Violation: Eviction order on lands.
Date: 18/02/2019.
Location: Khallet Ad-Dabe'a – Yatta town / Hebron governorate.
Perpetrators: The Israeli occupation civil administration.
Victims: Farmer Jaber Dababseh.
Description:
The Israeli occupation authorities issued an eviction order on a land owned by farmer Jaber Dababseh in Khallet Ad-Dabe'a south Hebron.
The military order was served by a vehicle from the Israeli occupation civil administration, and claimed that the land does not belong to Dababsa and gave him 72 hours, to return it to its previous status.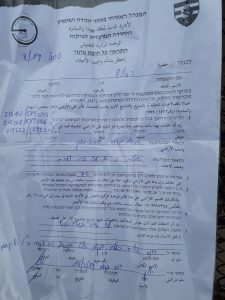 Photo: The Eviction military order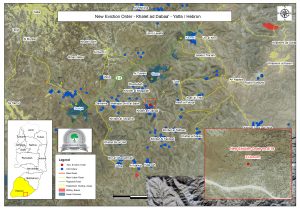 Dababsa owns a piece of land passed from Grandfather, father to son . Last Year, Dababsa cultivated the 3 dunums plot with olives , but the occupation authorities military order requires to uproot the saplings and evict the land.
Noteworthy, Khallet Ad-Dabe'a is a hot spot for Israeli human rights violations.
About Khallet Al-Dabe'a:
It is located to the east of Yatta town and is considered one of the communities of the Masafer Yatta area. The hamlet populates 100 residents, who live off of agriculture and livestock husbandry.
Khallet Al-Dabe'a is run by Masafer Yatta village council. The hamlet is linked to Yatta town by an unpaved road.
Legal Feedback:
The constringing policy  by the Israeli occupation authorities   of confiscating Palestinian can only be regarded as a violation of all  international conventions  and agreements regarding the rights of lands ownership and natural resources:
The International Covenant on Civil and Political Rights:
 Article 1 states: 2. All peoples may, for their own ends, freely dispose of their natural wealth and resources without prejudice to any obligations arising out of international economic co-operation, based upon the principle of mutual benefit, and international law. In no case may a people be deprived of its own means of subsistence.
The Universal Declaration of Human Rights:
Article 17: " (1) Everyone has the right to own property alone as well as in association with others.
(2) No one shall be arbitrarily deprived of his property."