Settlers sabotage 15 olive trees in "Al-Humra" East Yatta / Hebron governorate
Violation: Sabotaging olive trees.
Date: January 8 -2019.
Location: Al-Humra / Yatta/ Hebron governorate.
Perpetrators: Settlers.
Victims: Citizen Mahmoud Al-Rabae.
Description:
The olive harvest was once a joyful time for Palestinian families, celebrating the crop and their ties to the land. Yet for many years now, olive gathering has been taking place under the shadow of landgrab, restrictions Israel imposed on access to the plots that remain, settler attacks on harvesters and vandalization of trees.
In January 8 settlers of "Maon" illegal settlement raided a land belong to farmer Mahmoud Rabae and cut 15 olive trees aging 30 years old and wrote hatred inciting slogans on rocks featuring "Death for Arabs" and " Revenge".
Photos 1-4: Rabae's land after the attack.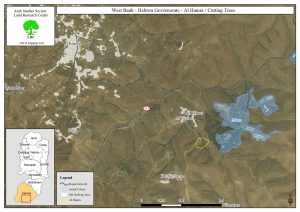 It is noteworthy, Farmer Rabae lodged a complaint to the Israeli police, the later showed up in the land and reported the damages, but like all settlers' attacks in Al-Humra area, no measures were taken to stop such assaults from happening.
"Maon" illegal Israeli settlement lies about half a kilometer east of Al-Humra , farmers in Al-Humra are subjected by Settlers assaults against herds and olive groves, for more information about the assaults read the following LRC reports:
1-  In September 09 -2018, Settlers Sabotage 15 olive trees.
2-  In January 31 -2015 , Colonists attacked trees in the Hebron town of Yatta.
3-  In September 2013, Maon colonists attacked olive trees in Yatta.
Prepared by
 The Land Research Center
LRC