Issuing an Eviction order to 45 dunums in Tel Al-Himeh / Tubas Governorate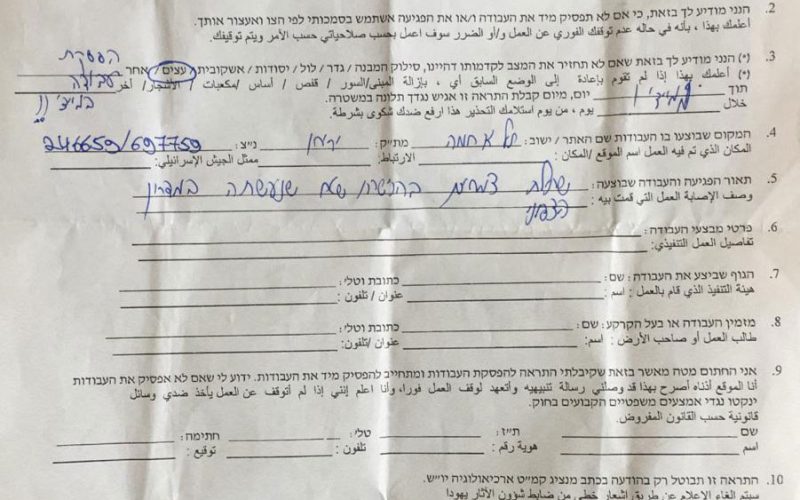 Violation: Issuing an eviction military order on the pretext of destroying antiquities.
Location: Tel Al-Himeh / Tubas Governorate.
Date: January 02 -2019.
Perpetrator: Antiquities officer in the Israeli occupation civil administration.
Victims: Farmer Bassam Faqha.
Description:
 Israeli troops accompanied by an officer from the Israeli occupation civil administration raided Tel Al-Himeh hamlet in the northern Jordan valley, the officer threw the eviction order in a 45 dunums land. The order says that the owner has to evict the land within 7 days from the issuing day on the pretext of assaulting sites of antiquities.
According to field observation, the landowners are from Faqha clan; the land is cultivated regularly and contains 20 olive plants.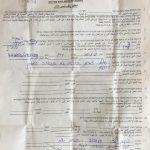 Order 1300: The military order targets agricultural lands in Khirbet Tel Al-Himeh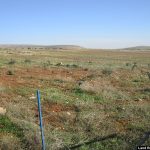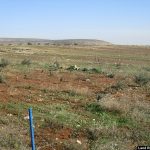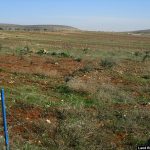 Photos 1-3 : The targeted plot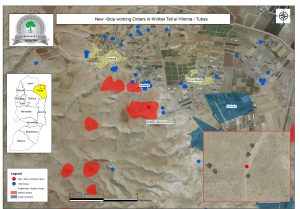 A Map shows the location of the targeted land
Farmer Bassam Faqha told LRC observer:
"I inherited this land from my father, who had inherited it from his father. We were shocked when the occupation forces showed up claiming that the land is a site of antiquities, personally I have never seen antiquities in the area, and as long as I know this is an agricultural land"
 Noteworthy, in the recent two years the occupation issued military orders to evict several agricultural lands in the northern Jordan Valley area and Ibziq hamlet under claims that they are sites of antiquities, but this is only one of the occupation's deceiving schemes to take over Palestinian lands.
It is important to point out that several evicted Palestinian lands under claims of being sites of antiquities are now turned into Israeli illegal outposts.
Tel Al-Himeh was inhabited of residence and farmers before 1967, after the Six-Day war residences and farmers of Tel Al-Himeh were dislodged under several claims like "closed military zone" and "border zones" while settlers have the total freedom of disposal in the area.
Tel Al-Himeh is about 500 meters from Bardala town, the community is inhabited by 77 members depend mainly on agriculture for living.
Legal Feedback
The constringing policy  by the Israeli occupation authorities   of confiscating Palestinian land can only be regarded as a violation of all  international conventions  and agreements like:
The International Covenant on Civil and Political Rights:
All peoples may, for their own ends, freely dispose of their natural wealth and resources without prejudice to any obligations arising out of international economic co-operation, based upon the principle of mutual benefit, and international law. In no case may a people be deprived of its own means of subsistence.
The Universal Declaration of Human Rights:
Article 17: " (1) Everyone has the right to own property alone as well as in association with others.
(2) No one shall be arbitrarily deprived of his property."
Prepared by
 The Land Research Center
LRC