Israeli Illegal settlers cut and sabotage 22 olive trees in Al-Mughayyir / Ramallah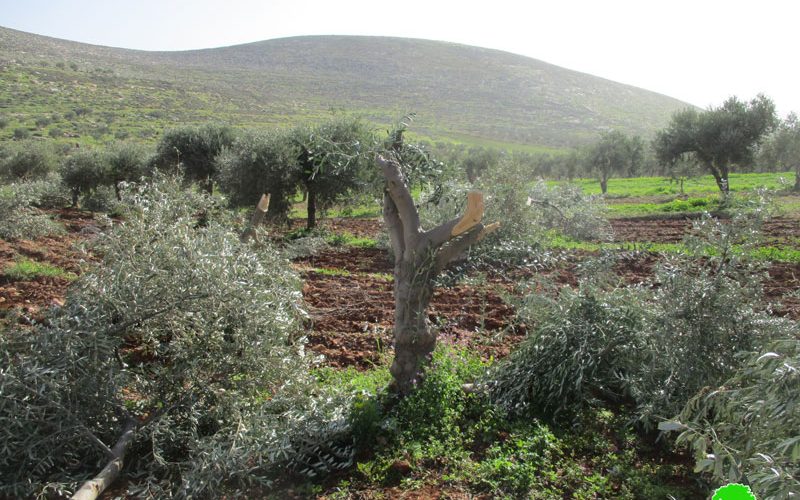 Violation: Sabotaging trees.
Location: Al-Mughayyir / North- East Ramallah.
Date: 18/01/2019.
Perpetrators: a group of fanatic settlers.
Victims: Farmer Abdul Hai An-Na'asan.
Description:
In the early morning hours of Friday January 18-2019 , a group of fanatic settlers raided al Mughayyir and cut and/ or sabotaged 22 olive trees aging 35 years using sharp tools.
In the same context, same group drew star of David on number of rocks in the plot.
The targeted plot belong to farmer Abdel Hai Na'asan (53) from Al-Mughayyir: "I own a 12 dunum olive grove, in the early morning hours of Friday I was shocked that the occupation destroyed the trees that provide a sub-source of income for my family of 8, the damaged trees produce 150 kg of olive oil per year. I filed a complaint to the Israeli police but nothing was done until this moment"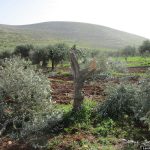 The plot after the attack – Al-Mughayyir / Ramallah

Faraj An-Na'asan head of Al-Mughayyir rural council told LRC observer: "The eastern area of the town is continuously subjected by settlers' assaults, in the recent years we documented several assaults such as : Sabotaging olive trees, writing hatred inciting slogans ,  torching trees , cars and mosques"
Al Mughayyir, an overview[1]:
Al Mughayyir is located 30 km to the north east of Ramallah; it is inhabited by around 2872 people according to the PBS statistics conducted in 2017.
Most of the village agricultural fields are located in its eastern parts; its total area before the Israeli conquest of the West Bank was 33,055 dunums, 501 dunums of which are considered built-up area.
However, the Israelis announced most of the Jordan Valley region into a military zone excluding more than 27556 dunums from the village total area.
The Israeli occupation confiscated 37 dunums from the village to open the bypass road number 458.
[1] GIS-LRC
Prepared by
 The Land Research Center
LRC