Demolition of an agricultural room and a water pool in Al-Tayba – East Tarqumiya / Hebron governorate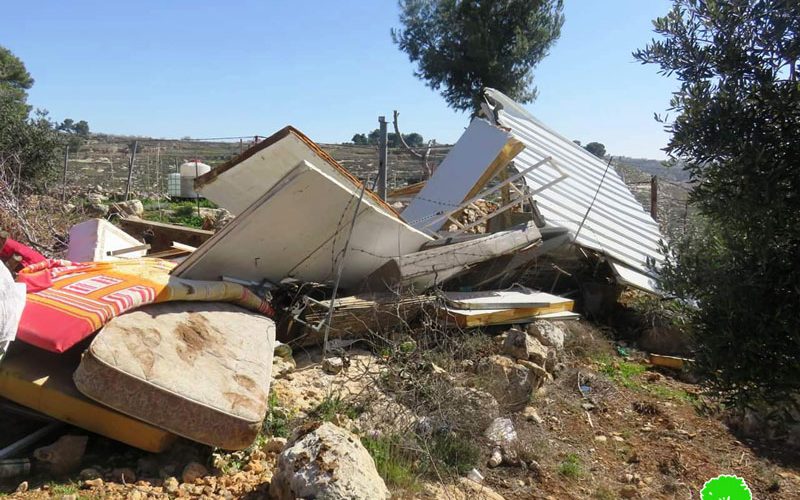 Violation: Demolition of an agricultural room and a water pool.
Date: 19/01/2019.
Location: Al-Tayba – East Tarqumiya / Hebron governorate.
Perpetrator: The Israeli occupation civil administration.
Victims:family of farmer  Ghassan Ja'afreh.
Description: The Israeli occupation authorities demolished an agricultural room and a rain water harvest pool owned by Ghassan Ja'afreh in Al-Tayba.
Ja'afreh asserted that Israeli troops and the Israeli occupation civil administration reached "Khallet Al-Beer" and headed to his land. Their heavy machinery failed to reach the targeted structures, so the occupation forces destroyed the properties using electric tools.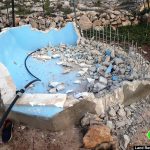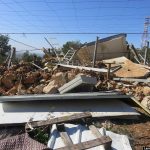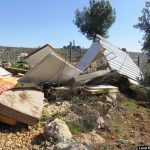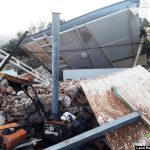 Photos 1-4: a photo after demolishing the room and the pool.
Reportedly, the agricultural room was built of steel sheets and has an area of (25 m2). The occupation troops also demolished a water harvest pool (16 m3) , the properties were in a 6 dunums agricultural land owned by Ja'afreh.
Noteworthy, Ja'afreh received several military orders from the occupation targeting his properties, one of them was a stop-work order in (28/11/2018)  on the pretext of building before getting proper licenses from the occupation.  And a final stop-work order in (2/1/2019), in (13/1/2019) Ja'afreh received a land evacuation order from the civil administration.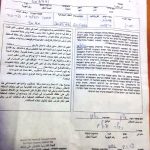 Photo 5: a demolition order on Aj-Ja'afreh properties
In reality, the issue is not all about unlicensed construction than it is on the occupation's intention to take over more lands in the area of their control (Area C according to Oslo Accords). The Israeli occupation considers such lands as a colonial reserve, which will be hard to negotiate on in any future agreements with Palestinians.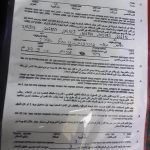 Photo  6 : an evacuation order on Aj-Ja'afreh land
About Tarqumiya:[1]
10 km to the west of Hebron city , Tarqumiya is edged by Beit Ula and Beit Kahil villages from the north,  Idhna village from the west, Taffuh village from the east and Dura village from the south.
Its population mounts up to 18,514 people (2014 census). Tarqumiya's total land area is 22,106 dunums, of which 2,117 dunums are considered the village's built-up area.
Israeli colonies confiscated 948 dunums from Marda lands. Adora colony that was established in 1982 confiscated 442 dunums from the village. It is now home for 191 colonists.
As for Telem colony, it confiscated 506 dunums from Tarqumiya and is now home for 127 colonists.
The lands of Tarqumiya are classified according to Oslo Accords as the following:
8,186 dunums (37%) are classified as area B
13,920 dunums (63%) are classified as area C
[1] GIS-LRC