New colonial outpost in the northern Jordan valley area/ Tubas
Violation: New colonial outpost.
Location: northern Jordan valley area/ Tubas.
Date: May 1 -2018.
Perpetrator: "Shadmot Mehola" illegal Israeli settlement.
Victim: People of Wadi Al-Malih particularly who count on animal husbandry for living.

Description: In the beginning of May 2018, Settlers of "Shadmot Mehola" implanted a mobile caravan in the southern hills between the two settlements "Shedmot Mehola" and "Rotem" in the northern Jordan Valley over lands The Israelis consid "state's lands". The targeted area is confiscated from Az-Zamil Bedouin community who were evicted under weapon threatens after 1967 on the pretext of residing in "A military closed zone".
Human rights activist Aref Daraghmeh told LRC observer:
"The targeted location lies over a high hill between two Israeli illegal colonies, about 1 kilometer south "Shedmot Mahola" settlement, This land is the only posture in the area and closing it will affect thousands of dunums used as postures and belong to Palestinians and facilitate annexing "Shedmot Mahola " and "Rotem" and the new colonial outpost in "Al-Sweida" which will affect the lives of tens of Palestinian farmers and their families"
It is obvious that there is a huge collaboration between Settlers and the so called The state's properties services in the Israeli civil administration, which facilitated the confiscation of areas of Palestinian lands on the pretext of "State's property" like "Shadmot Mehola" whose settlers took over thousands dunums of lands and water resources in the northern Jordan Valley area, and now Palestinians in the area are worried that the settlement will expand and unite with "Rotem" and other colonial outpost in Al-Sweida to form a grand settlement in  the Jordan Valley area, which is the settler's plan for years.
Photos 1+2: The new colonial outpost.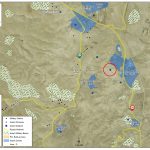 This new outpost comes with the establishment of another outpost south west "Allon Moreh" illegal Israeli settlement in Nablus city, which reveals an Israeli Plan to confiscate tens of dunums between the new outpost and "Allon Moreh".
LRC documented the establishment of 8 new illegal outposts in The Palestinian Jordan Valley area in 2017, with the support of the Israeli government under The Israeli master plan to Judaize the Palestinian Jordan Valley area.