Closing postures in Khirbet Al-Faresiyeh
Violation: closing postures.
Location: Khirbet Al-Faresiyeh in the northern Jordan valley area.
Date: 19/12/2018.
Perpetrators: Settlers of "Mehola".
Victims: Herders of Khirbet Al-Faresiyeh.
Description:
A group of fanatic settlers from "Mehola" raided Wad El-Malih and Bardala town and placed woods structures in Khirbet Al-Faresiyeh leveling to take over the whole area, which means closing tens of dunums of postures and surrounding Bedouin communities.
Noteworthy, Bedouin communities depend mainly on herding for income, closing postures will be a great danger on their existence in the area, Bedouins are known of dwelling in areas close to posture and water, once the area lacks these two components they move to save their lives.
The responsible on the colonization file in the Jordan Valley area Mutaz Bsharat told LRC reporter: "With the protection of the Israeli occupation army , settlers attempt to take over wide areas of postures. It is important to mention that the Israeli government considers these areas closed military zones or state's properties and then gradually leaks them to settlement's councils".
Mufeed Sawafta from Khirbet Al-Fareseyeh said that this is a scheme to destroy animal resources by closing postures or destroying them through holding military trainings in the area , which will consequently cause the eviction of Bedouin communities and facilitate grabbing lands for Israeli colonial expansion.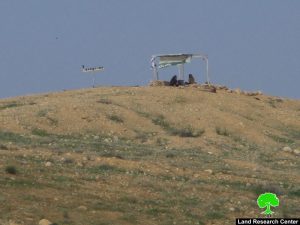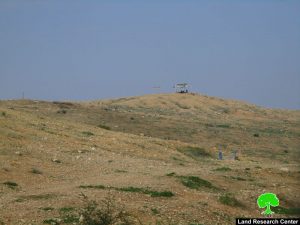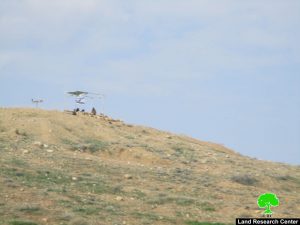 Photo 1-3: the wood structure placed by settlers
Prepared by
 The Land Research Center
LRC