"Adei Ad" settlers vandalize hundreds of olive saplings in Turmus'ayya / Ramallah governorate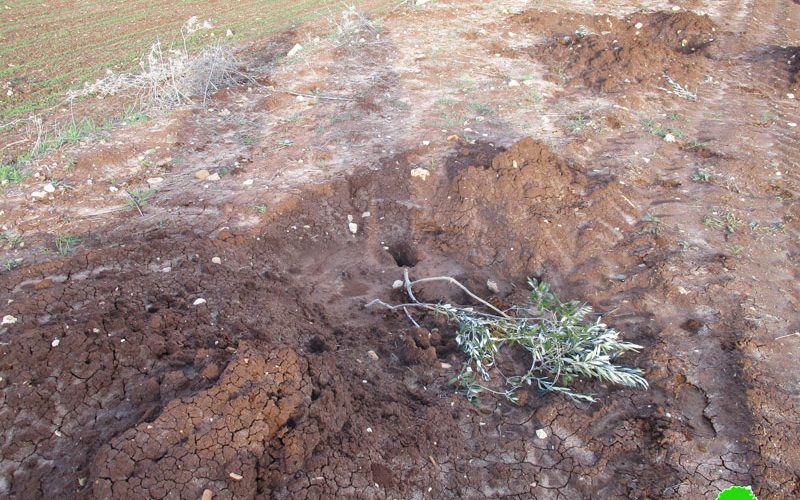 Violation: Vandalizing 244 olive saplings.
Location: North Turmus'ayya / Ramallah governorate.
Date: 15/12/2018.
Perpetrator: "Adei Ad" settlers.
Victims: 5 farmers' families in Al-Mughayyir  and Turmus'ayya villages.
Description:
Colonists' break-ins and arson attacks on Palestinians in the suburb areas are meant to terror and harass Palestinian citizens to push them out of their areas. 
A group of fanatic settlers from "Adei-Ad" settlement raided the northern area of Turmus'ayya , where they vandalized 244 olive saplings aging 5 years old.
Noteworthy, this is the first time settlers dare to sabotage properties in area B according to Oslo conventions. Hereinafter a table illustrating the damages:
Land owner

location

Family members

Number of damaged saplings

Planted area (dunums)

Bade'a Alqam

Khalet Sabha

6

120

2

Jameel An-Na'asan

Khalet Sabha

8

23

0.5

Ratib An-Na'asan

Khalet Sabha

6

18

0.5

Salim Rabah

Khalet Sabha

9

60

1.5

Abdul-Rahman Al-Khateeb

Ad-Dabat

8

23

1

total

37

244

5.5
The land after the attack -15/12/2018
Farmer Bade'a Alqam told LRC reporter:
"I have decided to cultivate my 2 dunums land in order to protect it from colonial expansion, but that did not stop Israeli settlers and troops from attacking the land several times and vandalizing the plants"
Mayor of Turmus'ayya , Rasmi Shahadeh said that there is a plan to eat up wide areas of Turmus'ayya lands to annex "Shilo" , "Amihai" ,"Adei Ad" and "Shevut Rahel".
Shahadeh asserted: "recently, tens of attacks were documented in Turmus'ayya , despite the complaints to the Israeli police , nothing was done to stop the attacks"
About Turmus'ayya:[1]
25 km to the north east of Ramallah city, Turmus'ayya  has a population of 3736 people (2007 census). Its total land area is 18139 dunums, of which 1350 dunums are considered built-up area. About 11218 dunums of  Turmus'ayya lands are classified as  Area B (PA is in charge of civil matters with Israel responsible of security) where 6921 dunums are classified as  Area C (Israel maintains full security and administrative control).
The Israeli occupation confiscated vast areas from the village for the benefit of the following colonies:
Shilo and Mizpe Rahel devoured 1023 dunums
Mizpe Rahel  devoured 706 dunums
The bypass road number 60 stole 12.5 dunums
[1] GIS-LRC