Settlers wrote hatred inciting slogans and ruin car tires in Al-Mughayyir / Ramallah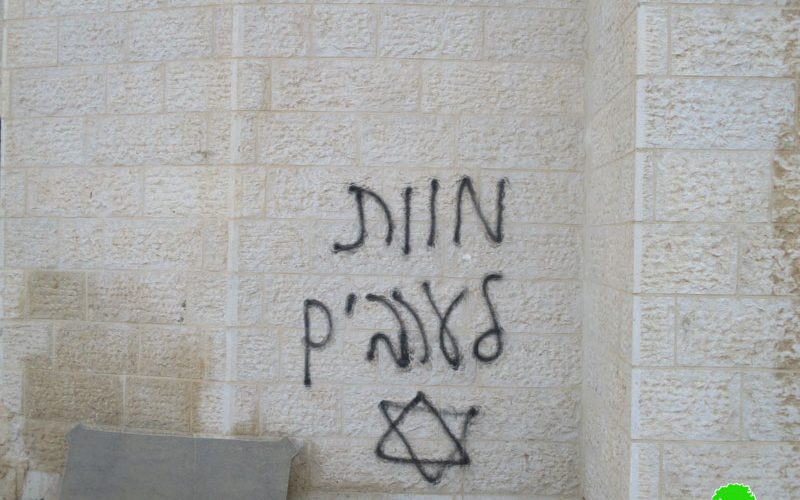 Violation: Settlers sabotage Palestinian properties.
Location: Al-Mughayyir – North east Ramallah.
Date: 25/11/2018.
Perpetrator: Fanatic settlers.
Victims: Number of citizens from the town.
Description:
In the early morning hours of November 25 -2018, a group of radical settlers sneaked into Al-Mughayyir village north east Ramallah and wrote hatred inciting slogans on number of cars in the village, the attack left the following damages:
Settlers wrote hatred inciting slogans on the walls of Citizen Mahmoud Shahadeh family home. In addition to drawing David star and ruining the tires of his Subaru 1988.
Settlers wrote hatred inciting slogans on the walls of Akram An-Na'asan family home and ruined the 4 tires of his Hyundai Santa Fe car 2002.
Settlers wrote hatred inciting slogans and ruined the car tires of a Hyundai Elantra 1999 belong to citizen Mujahid an-Na'asan.
Settlers ruined the car tires of a Toyota Jeep belong to Abdul-Majid Abu Alia.
A view of the properties after the fanatic settlers' attack / Al-mughayyir
It is noteworthy that Al-Mughayyir village is targeted by frequent Radical Settlers' assaults such as sabotaging olive trees, ruining car tires and writing hatred inciting slogans, usually the Village council of Al-Mughayyir file a complaint to the Israeli side but nothing was done until this moment to stop such attacks from happening.
Al Mughayyir, an overview:[1]
Al Mughayyir is located 30 km to the north east of Ramallah; it is inhabited by around 2900 people according to the PBS statistics conducted in 2010.
Most of the village agricultural fields are located in its eastern parts; its total area before the Israeli conquest of the West Bank was 33,055 dunums, 501 dunums of which are considered built-up area.
However, the Israelis announced most of the Jordan Valley region into a military zone excluding more than 27556 dunums from the village total area.
The Israeli occupation confiscated 37 dunums from the village to open the bypass road number 458.
According to Oslo Accords, the village lands are classified as follows:
1695 dunums are considered area B
31360 dunums are considered area C
[1] GIS-LRC
Prepared by
 The Land Research Center
LRC