Israeli authorities grab 29 dunum of lands in Aj-Jalama – North Jenin
Violation: grabbing 29 dunums of land.
Date: November 05 -2018.
Perpetrator: The Israeli occupation army.
Victim: Number of Palestinian farmers.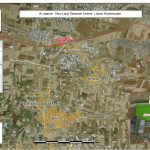 Description:
Aj-Jalama rural council received an Israeli military order in November 05, informs that the Israeli authorities will confiscate 29 dunums of Aj-Jalama town's lands adjacent to Aj-Jalama check point North-West area of the town.
the occupation army commander "Nedav Alof" signed Military order (T/24/18) that informs the confiscation of 29 dunums of lands for security purposes, the targeted plots are located within the natural block number 5 (28-30, 28,23,20,31,60,40 ) and road "0" that connects the plots.
Field observation and attached maps show that the targeted location lies west of the bypass road that leads to Aj-Jalama checkpoint, noteworthy the plot is now used as a parking lot for Palestinian cars and contains many Kiosks.
Head of Aj-Jalama rural council Mohammad Abu Farha explained that the Israeli scheme in reality aims to transform the area into a parking lot for Israeli trucks and not for military purposes, Abu Farha added that since putting a checkpoint in the town, the Israeli occupation carried out several assaults against the town's people like demolishing many kiosks.
According to the rural council the targeted plots belong to: (Othman Abu Farha, Fawzi Abu Farha , Abdul Raheem Mare', Rida Abu Farha, Mahmoud Abu Farha, Sadeq Abu Farha, The Palestinian investment company) .
Noteworthy, Aj Jalalma passing point contacts Jenin to the occupied territories, it devoured over 75 dunums , surrounding lands are used for commercial purposes.
Photos 1-4: The targeted plots.
Photos 5-9: The military order.
Prepared by
 The Land Research Center
LRC