Israel to continue a land grab of 267 dunums in the Jordan Valley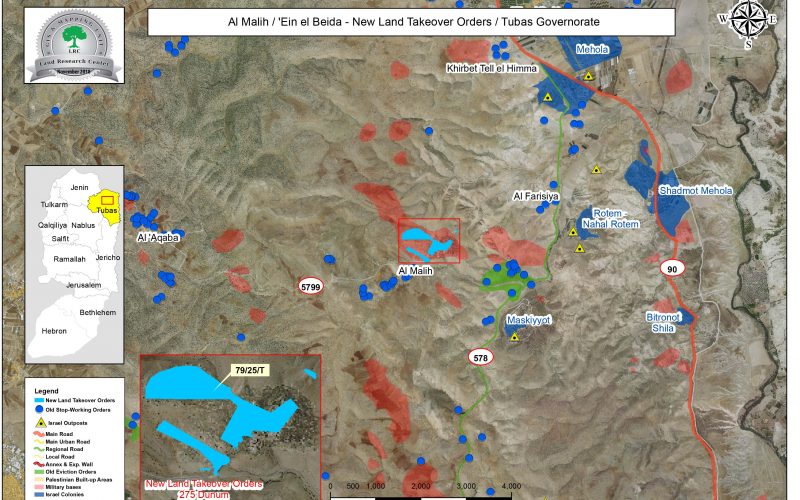 Violation: Israeli to continue a land grab of 267 dunums.
Date: 25 /11/2018.
Location: Bardala and At-Tayaseer – Wad Al-Malih / the Jordan Valley area.
Perpetrator: The Israeli occupation army.
Victims: People of the northern area of the Jordan valley.
Description:
Israel Army Commander in the West Bank, Alon ALov, issued a military order number (T/25/79), which states continuation on a 267.37 dunum land grab in "Khallet Al-Bad" / Al Malih and Bardala.
The order entitles the Israeli Occupation Forces to continue the seizure of the targeted lands until 2020.
It should be noted that the order targeted some parts that belong to the Latin Patriarch, on which Nahal military camp was built in 1968, while the rest of them were transformed into military training area.
The rest of the seized lands are private Palestinian properties from Bardala, confiscated by military orders in 1979
The following table shows information about the seized lands:
The grabbed lands

location

Natural block

Plot's number

267.375

Bardala

159

1 "0" between plots

Tayaseer

1

3

2

2-7,4, "0" between plots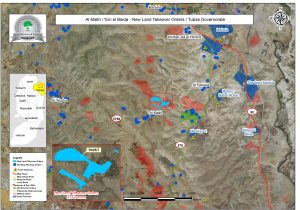 The responsible on colonization file in The Jordan Valley area " Mutaz Bsharat" told LRC reporter:
"The area connects Tubas governorate to the Jordan Valley, the latest confiscation resolution comes along with expansion work on Nahal military camp, this will impose threats on 9 rural and Bedouin communities, including: (Al-Burj , Hamamat Al-Malih, Aj-Jabarees, Al-Bad, Al-Maiteh and Al-Fareseyeh) .
Noteworthy, Israel Army Commander in the West Bank, Alon ALov , recently issued a series of confiscation military orders targeting wide areas of Palestinian lands, especially in Ras Al-Ahmar and Al-Muzokah.
Prepared by
 The Land Research Center
LRC