Lands ravaging and trees uprooting in The Jericho village of Fasyel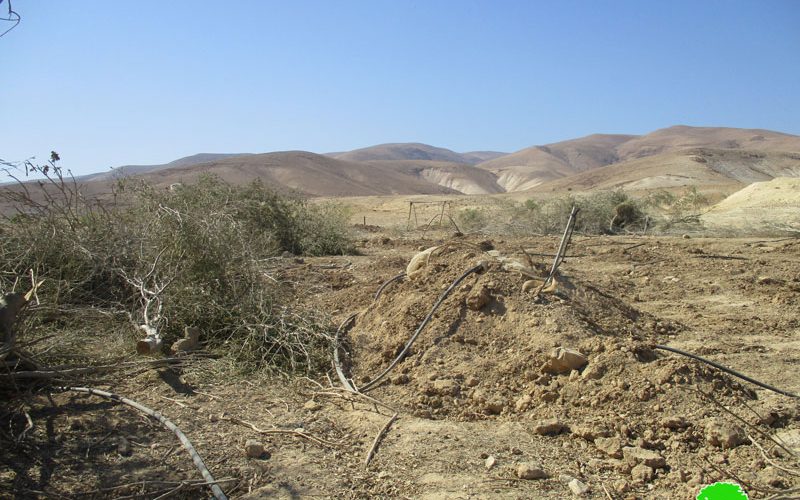 Violation: Ravaging a dunum of a land cultivated with olive trees claiming it is a state's land.
Location: Fasyel Al-Wousta / Jericho governorate.
Perpetrators: Israeli occupation army.
Victims: Farmer Jameel Ar-Rashaydeh.
Desription:
October 30, 2018 , members of the Israeli occupation army broke into Arab Ar-Rashydeh Bedouin community in Fasayel Al-Wousta, headed to a 1 dunum land cultivated with 22 olive trees, 2 palm trees and 3 Aloe trees, The occupation forces cut the mentioned trees with an electronic saw and ravaged the land.
According to field observation, they also destroyed a metal siege surrounding the land and an irrigation system.
Photo 1-4: The land after the Israeli occupation forces destroyed it.
The occupation claim that the targeted land belong to the Israeli state. However, affected villager negated receiving any notices to evict the land and he told LRC observer:
In the beginning of 2018 I reclaimed my land and cultivated it with olive trees, to provide a subside income for my family (5 members, including 2 children). We are targeted by an eviction plan, the occupation had destroyed our tents and barracks many times during this year claiming that we live over a state's property. Despite that, we insist to hold on to our home after we were displaced from our original home in Beer Sheva.
Sabah Rashed director of Bedouin communities file in Jericho governorate told LRC observer:
The occupation authorities do not recognize Fasyel Al-Wousta and Fasyel Al-Fouqa areas, and work on evicting Palestinian residents of these areas, in the recent year the area of Fasayel have been a target by many Israeli assaults and demolition against agricultural and residential structures, most families were rendered homeless due to the Israeli crimes.  Never the less, the occupation Obstruct any infrastructural developmental projects in the Area.
The area is inhabited by 13 Bedouin families of Arab Al-Ka'abneh, Kharbeesh and Arab Ar-Rashaydeh they all are decedents from Beer Sheva area immigrated due to the Nakba of 1948, And depend on animal husbandry for living.