"Hallamish" illegal settlers cut citrus trees in Deir Nitham village/Ramallah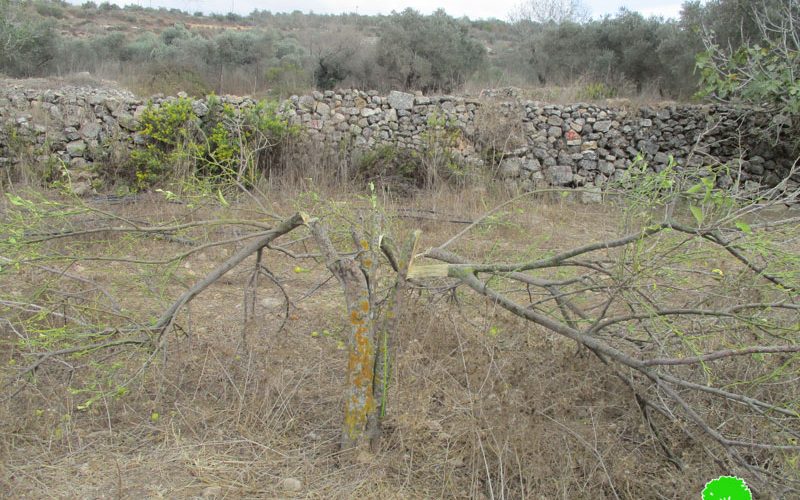 Violation: cutting and destroying 18 citrus trees.
Location: October 13, 2018.
Perpetrators: Hallamish illegal colony.
Victims: Abdul-Qader Sultan family.
Description:
In the dark time, Israeli illegal settlers of "Hallamish" sneaked to the northern countryside of Ramallah, cut fruitful trees (18 lemon trees, planted 12 years ago), and destroyed the irrigation system by cutting water pipes and burn them to make sure they won't be usable anymore. Their only purpose is to harm Palestinian farmers; agriculture is a main source of income in Palestinian country side.
Pictures 1-6: The trees after they were destroyed by Israeli illegal settlers.
The subjected land lies close to the Apartheid wall that surrounds Hallamish settlement, Hallamish Illegal settlers carried out number of assaults against Palestinian farmers of the area, according to Land Research Center reports, the area was subjected by the same settlers gang in 2017.
Farmer Jameel Sultan(35 yrs) one of the affected farmers, told LRC observer: "agriculture is our main source of income, we inherited this land from our grandfather, it has an area of 35 dunums and lies close to "Hallamish" illegal settlement. most of the area is cultivated olive trees, in the recent year the area was subjected by illegal settlers, they release their cows in our lands, close the leading roads and destroy trees, we filed many charges against them to the Israeli police but of course they did not do anything to stop the illegal settlers' assaults (The occupation's police is in charge in area C) 
Hallamish in lines:
Built in 1977, the colony of Hallamish was founded on the lands of an-Nabi Saleh and Deir Nitham villages, north of the West Bank city of Ramallah. The colony devoured 340 dunums of Palestinian property. It has a primary school, public library, dental clinic, medical clinic, swimming pool, Talmudic school, and events hall. The colony offers preparation courses to Jewish youth before recruitment.  The colony has a population of 1300 colonists, until 2008. (Source: Palestinian Martyrs Organization).
About Deir Nitham village[1]:
25 kilometers north west Ramallah, Deir Nitham village is surrounded by An-Nabi Salih and Bni Zeid Al-Gharbeyeh towns (north) , 'Abud (west) , Kobar and  Umm Safa (east) and Beitillu (south). It has a population of 876 people in 2017 census.
Deir Nitham has an area of 2,758 dunums , 161 of them are a built up area of the town, the Israeli illegal occupation confiscated parts of the towns' lands for the following purposes:
"Hallamish" illegal settlement confiscated more than 604 dunums, est5ableshed in 1977.
Bypass roads (450 and 465) confiscated over 250 dunums.
The land is divided according to Oslo convention to B and C areas:
Area B : 128 dunums.
Area C : 2,630 dunums.
[1] GIS – LRC
Prepared by
 The Land Research Center
LRC