Demolition order of An-Na'alwa residence in  Shweikeh Suburbs / Tulkarm Governorate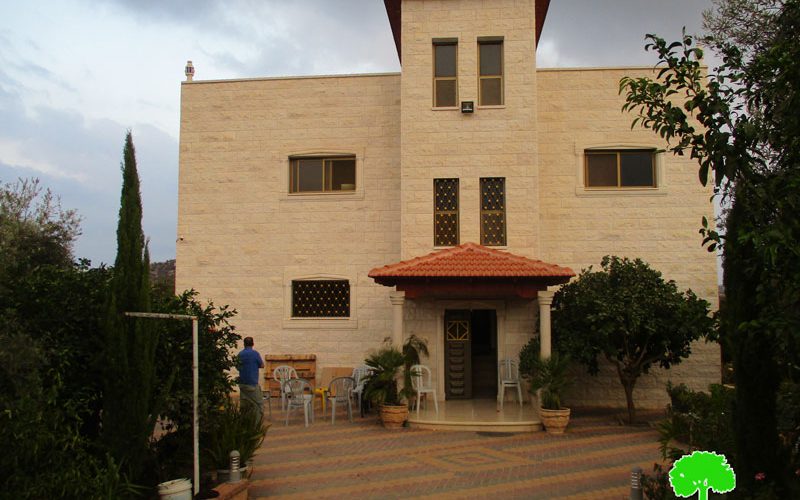 Violation: serving military demolition orders.
Location:  Shweikeh Suburbs / North Tulkarm governorate
Date: October 14, 2018
Perpetrators: Israel occupation army
Victims:  Ashraf Na'alwa family
Details:
Israeli Occupation army accompanied by The Israeli intelligence officer served on October 14, 2018 a demolition order on the residence of Ashraf Na'awla from Shweikeh suburbs, in Tulkarm governorate. The occupation served  Ashraf's father a military order of demolishing the first floor of the family home for what they call "Security purposes"
Ashraf's father , Waleed Na'alwa (59 yrs) told LRC observer: " Since my son Ashraf was accused of harming a settler, we live in very difficult circumstances, Israeli occupation break into our home daily and commit crimes against my familiy, they arrested my wife and all my children , all of them were victims of torture during questioning in the Israeli prisons in order to get information about our son Ashraf, While we truly do not know where is he, noteworthy that Ashraf has 2 brothers and 3 sisters all of them were victims of torture in the Israeli prisons.
According to field observation in Ashraf Na'alwa family home, the targeted house has a base of 90 m2, and 2 floors each one with an area of 160m2.
Since the beginning of Al Quds Intifada in October 2015 until October 2018, LRC field observers documented the demolition of 67 residences, 19 in 2015 , 32 in 2016 , 8 in 2017 and 8 in 2018 as a collective punishment carried out against families of martyrs and prisoners (who were accused of harming settlers or soldiers with knives or any other tools) the demolition rendered hundreds of people homeless most of them are children, and caused partial damage to 60 residences surrounding the targeted houses (they explode the house with dynamite) .
Even though, the demolition policy is considered a violation in international laws and conventions, the Israeli Supreme Court ratify demolition houses frequently.
The occupation authorities issue military orders with the title (demolishing the place or confiscate…) against families of Palestinians who the Israeli authorities claim that they resist the occupation, following the British mandate of Palestine law 119 of year 1945, knowing that this unjust law was cancelled before 1948. The demolition is a collective punishment against the family of the accused person, the whole family becomes homeless, and nearby structures are harmed. article 19 of this law states (demolition and confiscation) I.e. the targeted person is not allowed to rebuild the house in the same location.
LRC observes that the occupation demolition policy is a collective punishment practiced against families of martyrs and prisoners. The occupation claims that these are policies to stop Palestinians from practicing any sort of resistance against the occupation or illegal settlers. On the other hand, settlers commit crimes constantly against Palestinians, like burning families, and running over Palestinian women and children with their cars especially in areas close to the settlements, cutting and uprooting thousands of trees yearly other than stealing lands for colonial expansion, all these assaults are protected by the Israeli army , while Palestinians who try to defend their properties and children are subjected of solo and collective punishments, Israeli occupation most of the time unjustifiably accuse Palestinians of resistance.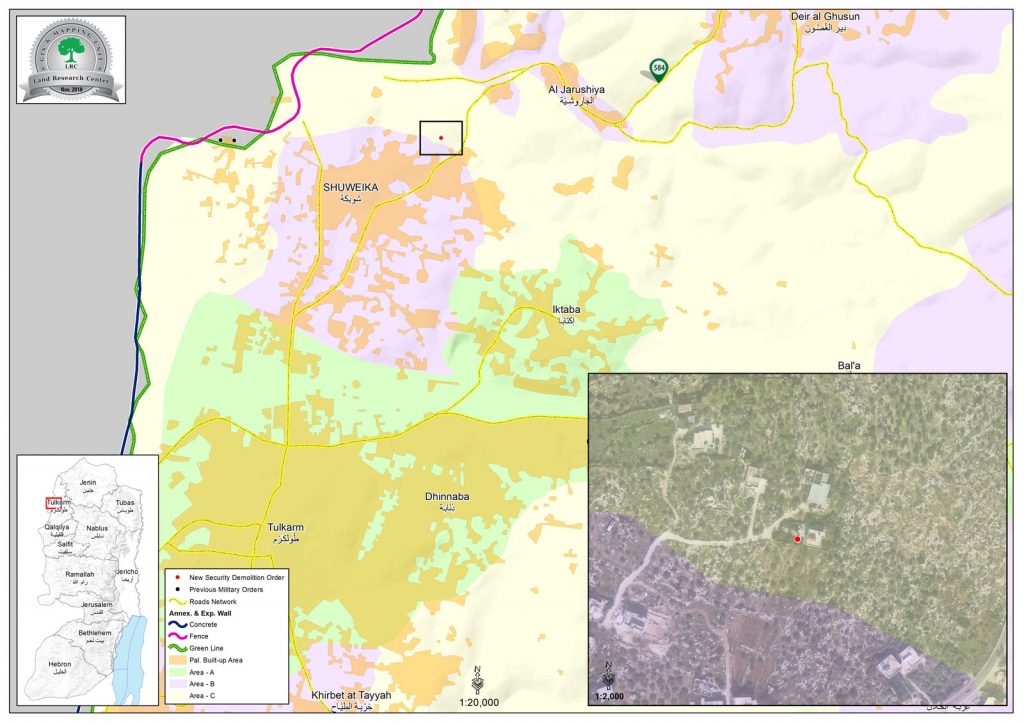 Prepared by
 The Land Research Center
LRC