Demolition of an agricultural room in Khallet Al-Furn/ Hebron governorate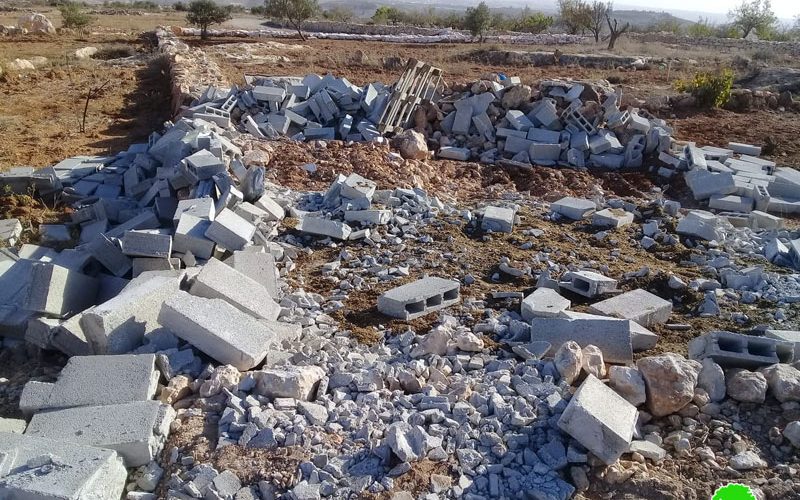 Violation: Demolition of an agricultural room used for Cattle husbandry.
Date: October 31 / 2018.
Location: Khallet Al-Furn- Bein Naim/ Hebron governorate.
Perpetrator: The Israeli occupation civil administration.
Victim: family of Majed Burqan.
Description:
October 31, The Israeli occupation authorities demolished an under construction agricultural room owned by villager Majed Burqan in Khallet Al-Furn hamlet , Bein Naim. Affected villager (55 years) told LRC observer: in September I started building a room of bricks to board my cattle (40) as winter is on the door, the sides of the room where built of bricks 40 m2, and was going to be ceiled with steel sheets, but the occupation forces had demolished it before finishing.
Photos: 1+2: Remains of the agricultural room after the demolition.
Burqan said that the demolition was carried out without delivering any preceding notices, members of the Israeli occupation army and civil administration broke into the construction location west of bypass 356 about 10:00 am and besieged the room before a (Volvo) bulldozer completely destroyed it. After the demolition, the cattle herd of farmer Burqan became homeless, it is worthy pointing out, that the construction expenses of the room reached 1200$.
Khallet Al-Furn have always been subjected by Israeli assaults against residents homes and facilities in the hamlet, for more information read the following LRC reports about Israeli violations in the Hamlet of Khallet Al-Furn: