Stop- Work order on Kardala services center/ Tubas governorate
Violation: serving stop work orders.
Location: Kardala / Tubas governorate.
Description: September 17 -2018.
Perpetrator: The so called building and organizing committee.
Victims: The town's people.
Description:
The Israeli Occupation Authorities issued stop-work order against a services center in Kardala. According to eyewitnesses, Israeli troops broke into Kardala town and handed the order to the contractor. The orders claimed that the structures were constructed without receiving the needed permits from the Occupation Authorities. The orders also assigned September 17, 2018 as the date of the hearing session in Beit El Military Court to discuss the status of the structures and the possibility of demolishing them. The orders called for immediate stoppage of any construction works.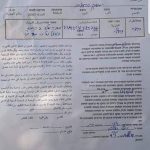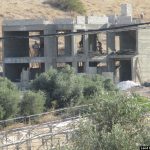 About the services center, Ghassan Faqha head of Kardala rural council: " The services center aims to provide better life possibilities for people of Kardala and surrounding communities, the area suffers from marginalization and is continuously subjected by Israeli assaults, the center consists of 2 floors each one with an area of 180 m2 funded by the European Union and consists of a health clinic , place for the rural council, women club , kindergarten serve 500 members from Kardala and 89 members from surrounding Bedouin communities"
One of Kardala villagers told LRC observer: "Kardala town is marginalized, the occupation practices aim to evict the town, Kids of Kardala have to go to Bardala schools, and patients have to go to Ein Al-Baida clinic for health care, this increase costs on Kardala people who suffer from poor financial income and depend mainly on agriculture for living". There are more than 20 structures notified to stop work in Kardala.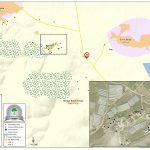 International Conventions and agreements pertaining to house and residents demolition:
 The Universal Declaration of Human Rights:
Article 17: " (1) Everyone has the right to own property alone as well as in association with others.
(2) No one shall be arbitrarily deprived of his property."
The 1907 the Hague Convention
 Article 23: " In addition to the prohibitions provided by special Conventions, it is especially forbidden to destroy or seize the enemy's property, unless such destruction or seizure be imperatively demanded by the necessities of war."
The Geneva Fourth convention
Article 53: "  Any destruction by the Occupying Power of real or personal property belonging individually or collectively to private persons, or to the State, or to other public authorities, or to social or cooperative organizations, is prohibited, except where such destruction is rendered absolutely necessary by military operations."
The International Covenant on Economic, Social and Cultural Rights:
Article 11.1 states: "The States Parties to the present Covenant recognize the right of everyone to an adequate standard of living for himself and his family, including adequate food, clothing and housing, and to the continuous improvement of living conditions. The States Parties will take appropriate steps to ensure the realization of this right, recognizing to this effect the essential importance of international co-operation based on free consent".