Settlers Sabotage 15 olive trees and assault Palestinian homes / East Yatta/ Hebron governorate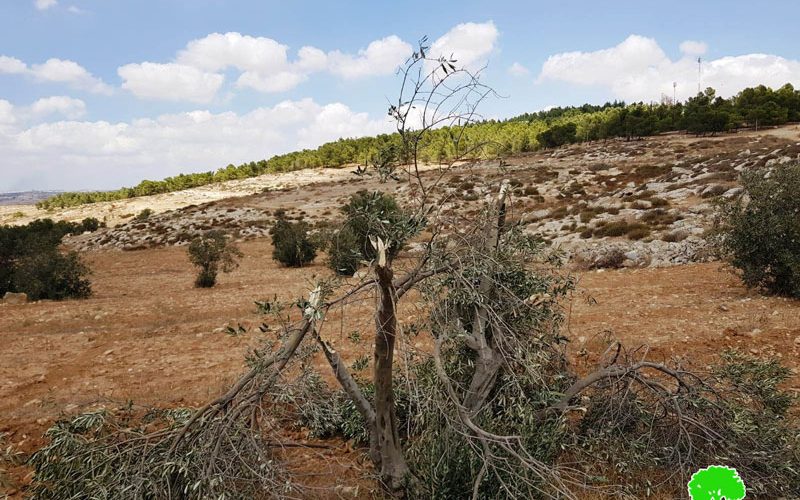 Violation: Sabotaging olive trees.
Date: September 09 -2018.
Location: At-Tawani – East Yatta / Hebron governorate.
Perpetrator: Maon fanatic settlers.
Victims: Palestinians from Rabie family.
Description: Fanatic settlers of Maon settlement raided at Tuwani town and sabotaged olive tree in Al-Humra area.
In the same context, same perpetrators threw rocks towards Palestinian homes in At-Tuwani town.
Affected farmer Amjad Rabie 30 years said: "I saw 3 young settlers in my land, but they ran to Maon settlement before I reached them, when I did, I found out that they had sabotaged 8 olive trees (aging 20 years).
Photos 1-4: The targeted plot.
Rabie asserted: " In the next day and while I was working nearby, I saw settlers in the land, I rushed their and found that they sabotaged other 7 olive trees before they ran away"
After a while, they came back with another group, all of them had their faces covered, and started throwing rocks on my house and neighboring houses.
Noteworthy, Amjad called the Israeli police; they came to the site and observed the damages. However, like usual , the Israeli police do not implant a serious investigation in assaults carried out by fanatic settlers.
Al-Humra is an agricultural area in At Tuwani village owned by Palestinians from Yatta town, the area is subjected by several Israeli assaults attempting to take over the land for Maon settlement expansion.
Prepared by
 The Land Research Center
LRC