Removing 70 olive trees in Tel Al Himeh/  Tubas governorate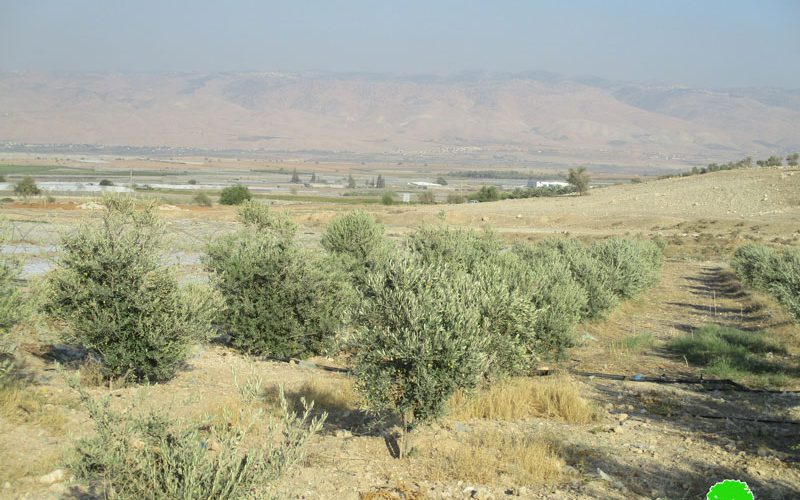 Violation: Removing 70 olive trees.
Location: Tel Al-Himeh – Northern Jordan Valley / Tubas governorate.
Date: September 02 -2018.
Perpetrator: An officer from the antiquities department in the Civil Administration.
Victims: Farmer Najeeb Fuqha.
Description:
Olive tree is a symbol of the land Arabism and the strong connection between man, land and history.
Vehicles from the antiquities department in the Civil Administration and an army patrol raided Tel Al-Himeh about 9:30 am heading to a land belong to farmer Najeeb Faqha (58).
The targeted land has an area of 4 dunums cultivated of olive seedlings (aging 6 years).
The officer of the so called Antiquities department threw the military order (67) between rocks in the land. The military order commands the removal of 70 olive seedling from the ground within 14 days, in case the farmer fails to remove them before the deadline, the Israeli troops will implant the operation and file high fine on the owner.
Field observation shows that the targeted land is only 800 m north the illegal outpost of "Khallet Al-Hamd" , and the area is subjected by colonial activities in daily basis.
Affected farmer Najeeb Faqha told LRC observer: "I inherited the targeted land from my father who had inherited it from his father, around decades the land was used in agriculture, but recently shortage of water lead me to cultivate the plot of olive trees instead of vegetables"
Photos 1-4: The notified trees.
It is noteworthy, Tel Al-Himeh was inhabited of residence and farmers before 1967, after the Six-Day war residences and farmers of Tel Al-Himeh were dislodged under several claims like "closed military zone" and "border zones" while settlers have the total freedom of disposal in the area.