Israeli troops confiscate a mobile room in Humsa At-Tihta / Tubas governorate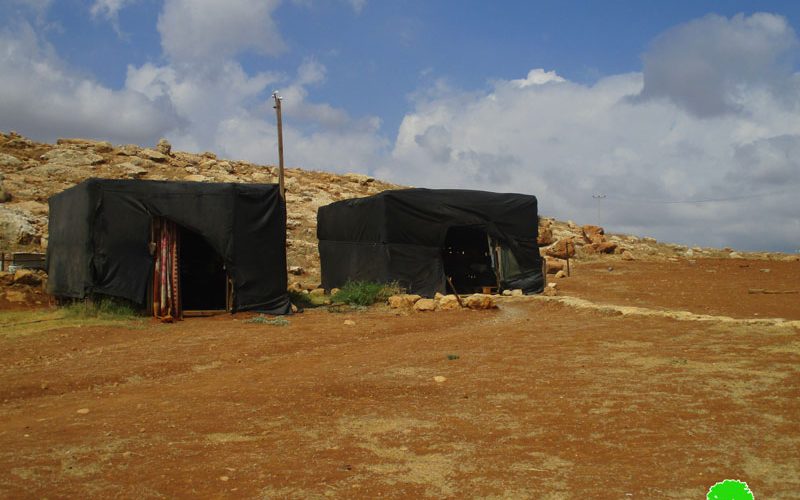 Violation: confiscating a mobile room claiming that it is unlicensed.
Location: Humsa At-Tihta/ Tubas governorate.
Date: September 04 – 2018.
Perpetrator: The Israeli occupation army.
Victims: Mahmoud Bsharat's family.
Description:
The Israeli occupation forces raided Humsa At-Tahta hamlet and confiscated a mobile room(12 m2).
Noteworthy, The confiscated room was a donation from the French organization ACTED in 2015 for Mahmoud Bsharat (38) family ( 5 members, 3 of them are children) after The Israeli occupation troops demolished their home and barns.
Photo 1-2: residences belong to Bsharat clan in Humsa At-Tihta
The confiscation military order
Affected citizen told LRC observer:
"I live in Humsa At-Tihta since my birth day . here I was born, here I got married and had three children and here I will die , despite the difficulties we face especially that the occupation prohibit infrastructural projects or even building houses in the area.
The Israeli occupation demolished our homes and barns several times, first time was in 1996, the second time was in 2006, and the last time was in 2015. However in September 2015 ACTED granted my family a mobile room,  but I was shocked that the occupation confiscated the room and rendered us homeless again"
Humsa At-Tihta is a part of the Jordan valley area, most of the inhabitants of the hamletare from Bsharat and Odeh clans. Residences of the area depend on animal husbandry and agriculture for living and live in tents and barracks.