Israel to expand "Nahil" military camp / Tubas governorate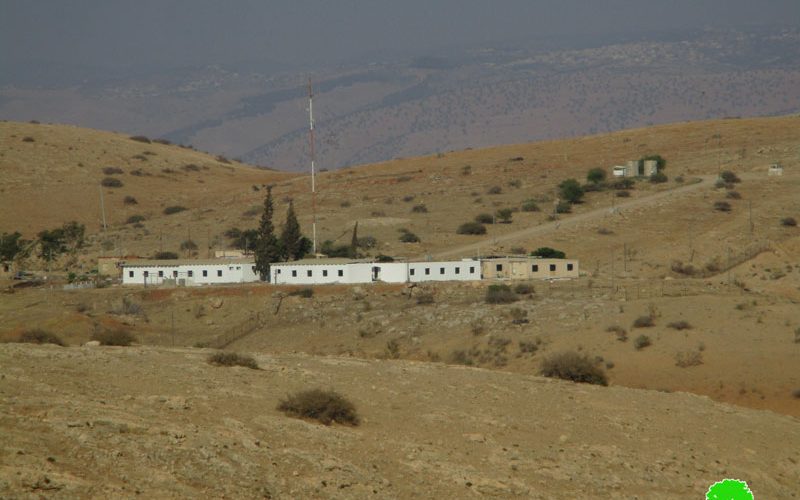 Violation: Expanding "Nahil" military camp.
Location: Khirbet Makhoul – Wad Al-Maliharea / East Tubas governorate.
Date: September 01 -2018.
Perpetrator: The Israeli occupation army.
Victims: People of Wad Al-Malih.
Description:
At the beginning of September, It was reported that the Israeli occupation added more than 9 caravans to Nahil military camp leveling to develop infrastructure and expand the camp's zone.
Noteworthy, "Nahil" is less than 1 kilometer from At-Tayasir military checkpoint in Wad Al-Malih.
Wad Al-Malih (the Sault valley) was named as such due to the excessive salinity of its water.
Motaz Bsharat the responsible of Colonization file in Tubas governorate told LRC observer:
"Recently, The Israeli occupation is taking over vast areas from The Palestinian Jordan Valley, Starting from transforming "Broch Habika" military camp into "Betronit" settlement, legalizing an outpost in Khallet Hamed, implanting new military points in As-Suweida and Ras Al-Ahmar, ending with expanding Nahil military camp, this is only a part of Israeli policies that aim to evict the Jordan valley area from Palestinian endogenous people and Judaize the area"
Photos 1-3: Nahil military camp.
Nahil military camp was established in the 70s on lands the occupation claims that they belong to the Israeli state.
Probing the details of this violation, Arif Daraghmeh, a human rights activist in the northern Jordan Valley, told the researcher of the Land Research Center: "The Israeli occupation taking advantage of the fact that "Nahil" stands at 12 dunums of Wad Al-Malih lands to prohibit irrigation and agriculture in vast areas of the town under security claims.
Nevertheless, The Israeli occupation army and civil administration served notices to tens of Palestinian families in Al-Burj hamlets, Hamamt Al-Malih, Um-Aj-Jamal and Ein Al-Hilweh to Halt Constructions under claims of lacking proper licenses, but in reality aiming to evict the area for military trainings and colonial expansion."
Prepared by
The Land Research Center
LRC