Eviction notices for 7 families in northern Jordan valley area for military trainingsTubas governorate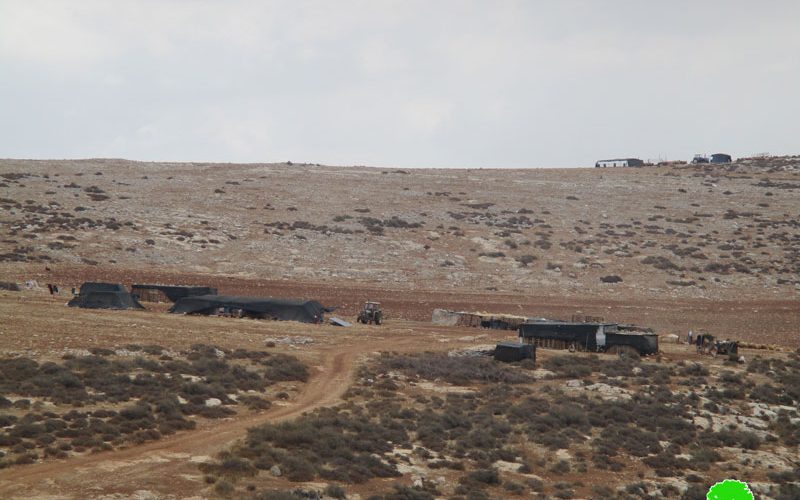 Violation: notifying 7 Bedouin families of eviction
Location:  Al-Burj and Omm Aj-Jaamal hamlets in the northern Jordan valley area/ Tubas
Date: September 3 , 2018
Perpetrators: the Israeli occupation army
Victims: 7 families
Details:
A massive force from the Israeli occupation army on September 3, 2018 raided the areas of Omm Aj-Jamaal and Al-Burj hamlets in Tubas. The notices ordered homes and farms' eviction on Tuesday September 4 from 5:00 pm until 10:00 am of the next day, to use their homes and farms as a military training camp.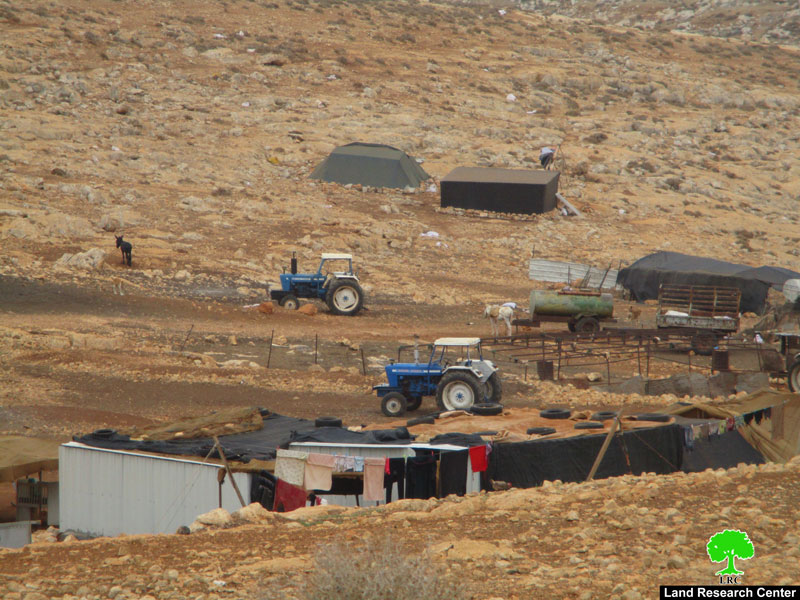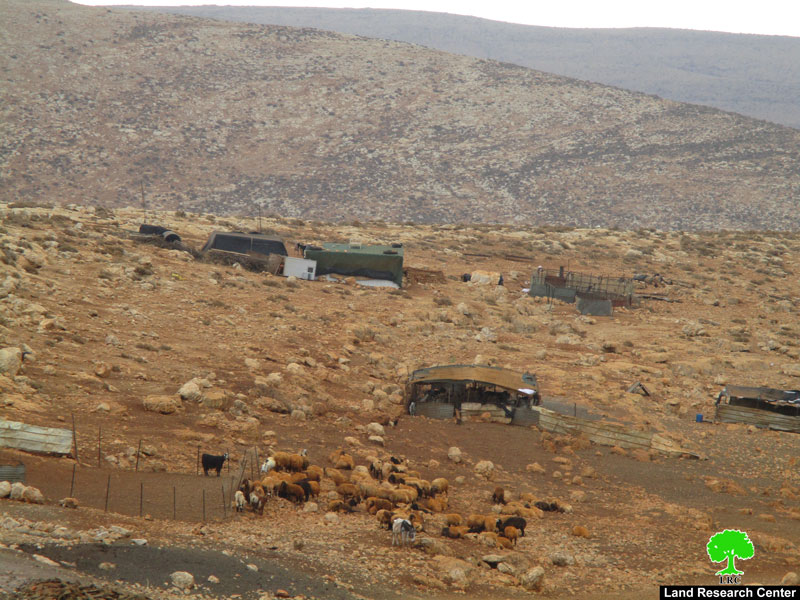 Photos 1-3: The threatened residences in Omm Aj-Jamaal hamlet.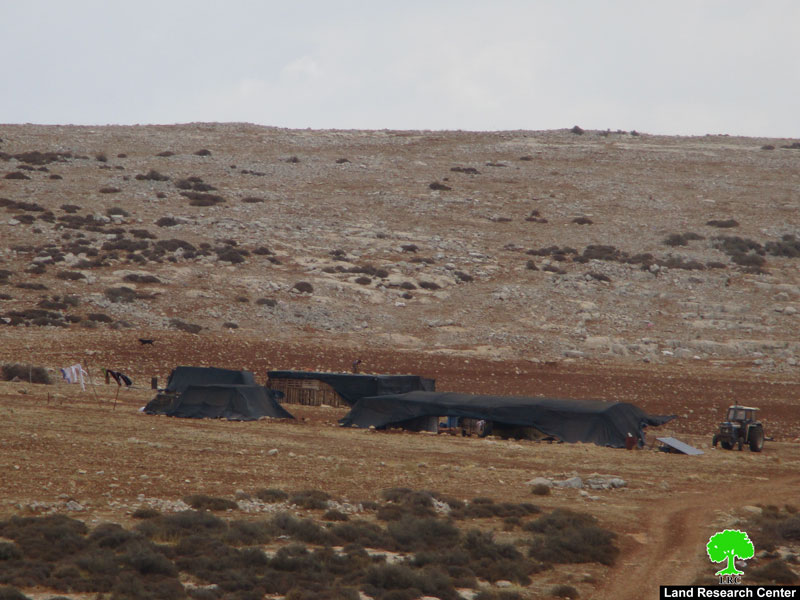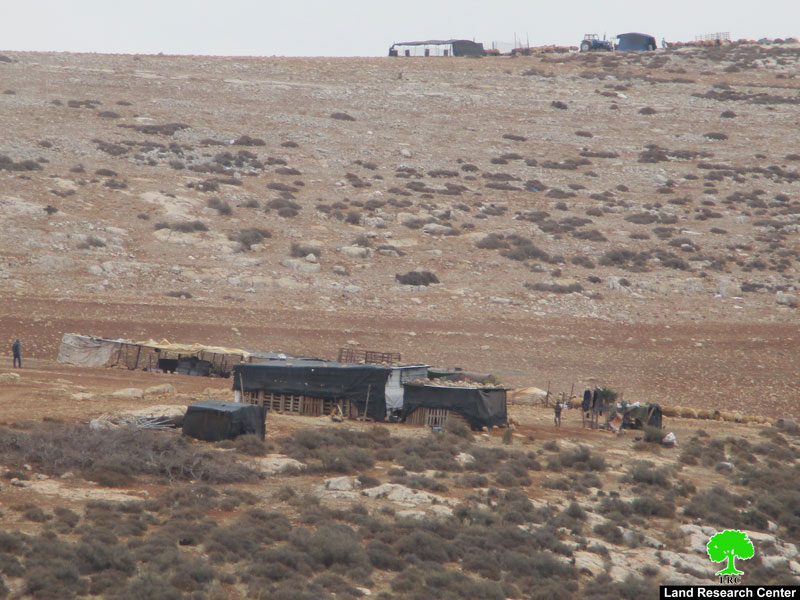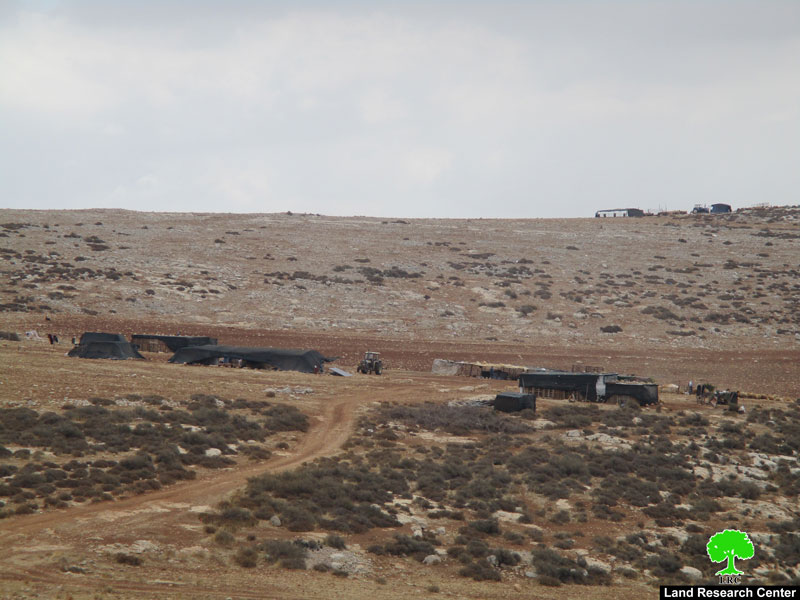 Photo 4-6: The threatened residences in Al-Burj hamlet
Information about the threatened residences:
Affected villager
location
Family members
Children under 18
1
Soliman Al-Qa'abneh
Omm Aj-Jamal
7
5
2
Al-Qa'abneh
Omm Aj-Jamal
7
3
3
Al-Qa'abneh
Omm Aj-Jamal
1
0
4
Al-Qa'abneh
Omm Aj-Jamal
9
4
5
Daraghmeh
Al-Burj
4
2
6
Daraghmeh
Al-Burj
9
5
7
Daraghmeh
Al-Burj
3
1
total
40
20
Source: Firsthand field observation – Israeli violation monitoring section – LRC, September 2018
Military trainings in the Jordan valley area caused great damage to human and land there, in the recent 7 years the occupation carried out frequent military trainings in Bedouin communities which ruined postures and destroyed agriculture, Noteworthy that most residents of the northern Jordan valley area count on agriculture and animal husbandry for living.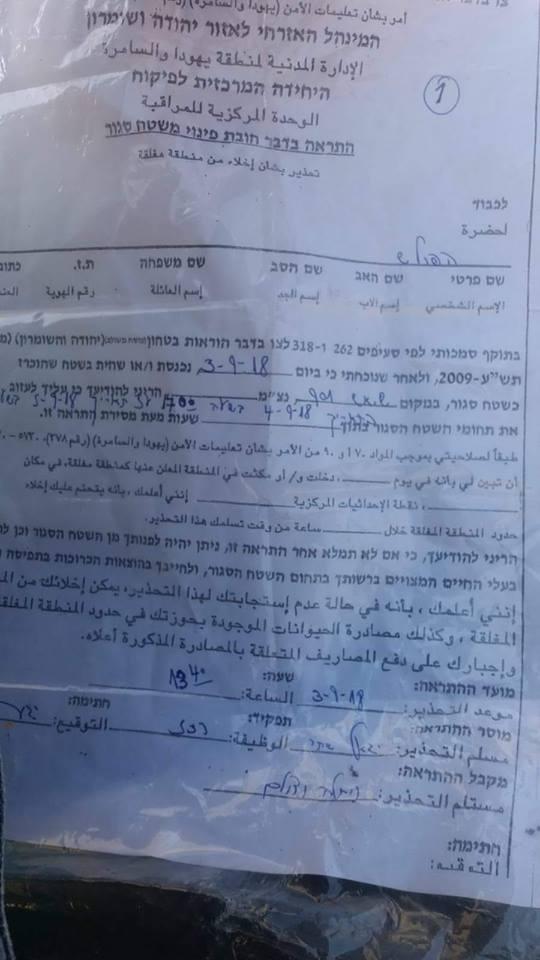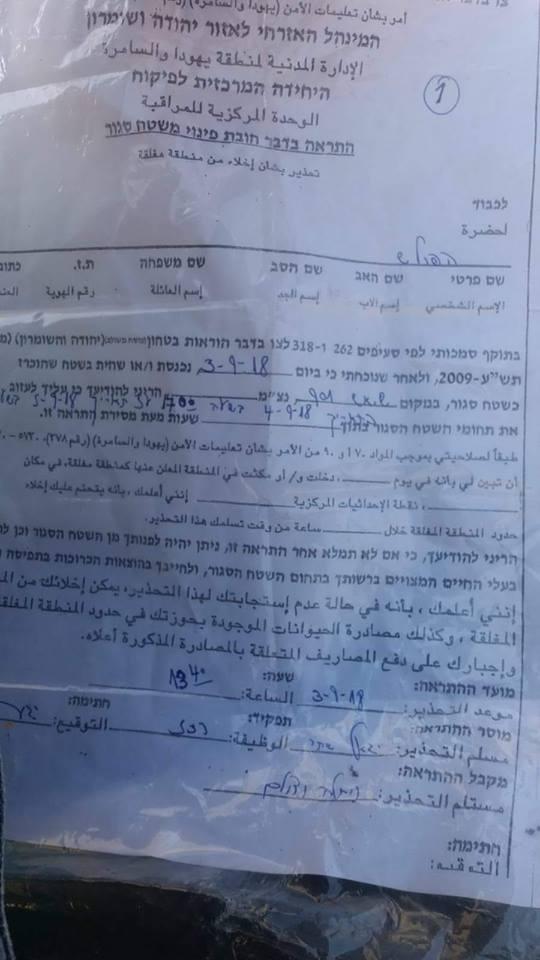 The last military training in Wad Al-Malih area caused the death of 3 cattles belong to farmer Fathi Daraghmeh, who told LRC observer: "Wednesday while I was feeding my cattles , I was surprised of numbers of military forces in the area, I tried to lead my Cattles away but they quickly started shooting randomly towards my sheep, which caused the death of 3 cattles , each one of a  worth of 4000 shekels"
The Jordan Valley covers one third of the West Bank total area; after 45 years of occupation; the area was turned into barren lands filled with colonies. 31 Israeli colonies, inhabited by over 7500 colonists exist in the Jordan Valley whereas, there is 18 Palestinian community, inhabited by 56000 Palestinians in the area. Meanwhile, the Israelis insist that the Jordan Valley is the eastern borders of the Israeli State and consider that non-negotiable.
Palestinians are rooted in the Jordan Valley:70 % of the total area of the Jordan Valley has been classified by the Israelis as 'military zones'; it is also covered with mine fields.
The biggest losers of the Israeli equation are the Palestinian residents who rely on agriculture as a source of their living.
Despite that, Palestinians in the Jordan Valley, who live in wooden shacks and depend on agriculture and cattle in their living are determined on remaining on these lands and stand in the face of the occupier no matter what it will cost them.
Prepared by
 The Land Research Center
LRC