Uprooting and sabotaging hundreds of olive trees in Arraba / Jenin governorate
Violation: uprooting and sabotaging olive trees.
Location: North Arraba / Jenin governorate.
Date: August 17 -2018.
Perpetrator: State's properties department in the Israeli civil administration.
Victims: Heirs of Mohammad Ad-Dehidi.
Olive tree is a symbol of the land Arabism and the strong connection between man, land and history.
The Israeli Occupation Forces have always worked hard to take down Palestinian farmers' well through targeting lands and trees
Description:
Israeli occupation forces and an officer from state's properties department raided Arraba town, uprooted and stole 300 olive trees and completely destroyed (50) olive trees, (5) fig trees and (5) almond trees.
Noteworthy, after uprooting them, the occupation troops transmitted the trees to Mevo Dotan settlement about 800 meters from the targeted lands.
One of the Heirs, Affected farmer Nathmi Ad-Dehedi (45) told LRC observer:
"The targeted land has an area of 85 dunums, 45 of them belong to my father proved by Tapu, the rest about 40 dunums are The Hashemite Kingdom treasury of which my father has legal document allows him to use the land in cultivation since 1969, most of the targeted olive trees age more than 35 years, and my father was cultivating the land in the last 4 decades.
This is not the first time the Israeli occupation targets us , in 2013 the so called Israeli civil administration uprooted and stole 900 olive trees from our farmlands, in 2015 The Israeli occupation state's properties department uprooted and stole 860 olive seedlings , Despite all obstacles and imminent danger , We insist on being in there until the last moment "
Photos 1-12 : The land after the attack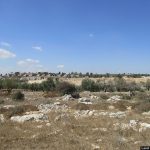 Photo 13: Mevo Dutan settlement.
About Arraba:[1]
Arraba is located 12km from the southern west of Jenin city. It is surrounded by both colonies; al-Manshiyya and Kufeirat (north), Fahma, al- Hafira, and Al Damayra towns (west south) and Fahma and Al Jadida towns (south).
It has a population of 11,479 people until 2017 and has a total area of 33,436 dunums , 1195 of which are built-up area. 1514 dunums were confiscated by the occupation as follows:
Mevo Dotan colony ; established in 1987 and inhabited by 289 colonists, took over 696 dunums of the village's lands. There is also an army camp for the occupation in the southern part of thw town founded on 129 dunums of the village's lands. The colonial roads also confiscated 370 dunums for the favor of the bypass road no.585.
According to Oslo Accords , the village lands are classified as :
(13869) dunums are classified as areas "A"
(3916) dunums are classified as areas "B"
(15623) dunums are classified as areas "C"
[1] GIS-LRC